W&C (Whiskey and Cigarettes Country Radio Show) is happy to announce the airing of their exclusive interview with Tim Rossi, lead guitarist and vocalist for the next generation of the legendary Southern Rock band, Blackfoot.  Mr. Rossi joined award-winning host, DJ Nik Bernitz Pizzigoni, to talk about the band's history, the passing of the Blackfoot baton from founder, Lynyrd Skynyrd's Rickey Medlocke, and the brand new album, Southern Native.

The interview with Tim Rossi will air this coming Sunday, August 21st, 2016 between 11am ET-3pm ET. The live show airs on Military Brotherhood Radio at http://www.militarybrotherhoodradio.com. Whiskey And Cigarettes is also re-broadcast on 50+ syndicating stations, worldwide, and their affiliates, multiple times throughout the week.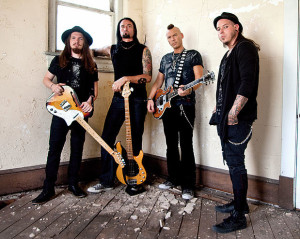 If there's one thing Rickey Medlocke can't do, it's sit still. The Blackfoot cofounder and Lynyrd Skynyrd guitarist is constantly looking for ways to challenge his creative impulses, and his latest pet project has been to shepherd the next-generation incarnation of his beloved Blackfoot. Under Medlocke's steady guidance, the Florida-based foursome — lead guitarist/vocalist Tim Rossi, guitarist/vocalist Rick Krasowski, bassist Brian Carpenter, and drummer Matt Anastasi — has been jamming together live under the vaunted Blackfoot banner for quite some time, and now they're ready to release a hard-charging new album on Loud & Proud Records, Southern Native, that beautifully meshes traditional tones with modern sensibilities. For more information on Blackfoot, please visit www.blackfootband.com.
"Whiskey And Cigarettes Radio Show" is a weekly show, originating in Milan, Italy, hosted by the "Romeo of the Rodeo" Nik Pizzigoni.  Nik is a Nashville Universe Awards Winner, International Music and Entertainment Association Award Winner, a New Music Awards Winner, AMG Heritage Awards nominee,  and an Independent Country Music Association nominee. The show features a unique blend of classic, current and indie country, trivia, contests, artist spotlights and interviews and Nik's European charm. Previous guests have included Charley Pride, Hank Williams, Jr., Charlie Daniels, Steve Wariner, John Rich, Oak Ridge Boys, Lorrie Morgan, Bill Anderson, David Ball, Bryan White, Doug Stone, Lee Greenwood, Collin Raye and many others.  www.whiskeyandcigarettesshow.com.