W&C (Whiskey and Cigarettes Country Radio Show) is happy to announce the airing of their exclusive interview with Top 70 Music Row charting artist, Shane Owens.  Mr. Owens joined award-winning host, DJ Nik Bernitz Pizzigoni, to talk about the ups and downs of keeping traditional country music alive, including the success of his recent release, "Country Never Goes Out of Style."

The interview with Ms. Demetree will air this coming Sunday, September 4th, 2016 between 11am ET-3pm ET. The live show airs on Military Brotherhood Radio at http://www.militarybrotherhoodradio.com. Whiskey And Cigarettes is also re-broadcast on 50+ syndicating stations, worldwide, and their affiliates, multiple times throughout the week.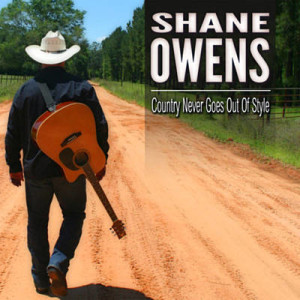 The music business has knocked Shane Owens down, but this tough country boy is back on his feet with a triumphant debut album.  The staunch country traditionalist has survived career setbacks that would have defeated most performers. Instead, he has recorded a group of songs that will make him the most applauded newcomer of the year.  The fact that this new project exists is something of a minor miracle. Every other time he tried to make a record, the music industry burned his dream to the ground. Until this year, all his hard work had always seemed to be in vain.  Shane Owens built a following in nightclubs of the Southeast for a decade. Fans flocked to hear his powerfully emotional singing. He opened shows for dozens of major stars, and word from them trickled back to Nashville's music executives.  His new CD, Country Never Goes Out of Style, produced largely by James Stroud (Chris Young, Clint Black) and featuring songs written by Ed Seay (Martina McBride, Collin Raye) contains the #66 Music Row charting title cut.  For more information, please visit http://shaneowenscountry.com/.
"Whiskey And Cigarettes Radio Show" is a weekly show, originating in Milan, Italy, hosted by the "Romeo of the Rodeo" Nik Pizzigoni.  Nik is a Nashville Universe Awards Winner, International Music and Entertainment Association Award Winner, a New Music Awards Winner, AMG Heritage Awards nominee,  and an Independent Country Music Association nominee. The show features a unique blend of classic, current and indie country, trivia, contests, artist spotlights and interviews and Nik's European charm. Previous guests have included Charley Pride, Hank Williams, Jr., Charlie Daniels, Steve Wariner, John Rich, Oak Ridge Boys, Lorrie Morgan, Bill Anderson, David Ball, Bryan White, Doug Stone, Lee Greenwood, Collin Raye and many others.  www.whiskeyandcigarettesshow.com.