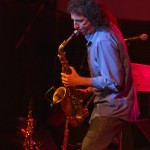 From our friends at MuzicNotez.com: Dave Panico – considered "One Of The Best" by US Smooth Jazz – is considered to be Saxophonist Extraordinaire by his fans. From the very first note, his music and heart will take you places you've never been. The passion and emotional power that comes from his horn will reach down to the very core of your soul.

Unlike some artists who limit themselves to a singular style and set of influences, Dave cites a fascinating array of jazz legends and contemporary greats as having an impact on his own exciting mix of compelling melodies, strong rhythms and transcendent improvisations.
His early exposure to jazz included Benny Goodman, Pete Fountain and the Big Band sounds of Tommy Dorsey-but his funky, grooving vibe owes just as much to longtime smooth jazz chart toppers like Warren Hill, Dave Koz and Richard Elliot. And like some of today's other top contemporary jazz greats, including Kirk Whalum and Jonathan Butler, he's not shy about the faith that grounds and inspires it all.
Panico started out his performing and recording career in the Chicago area where he enjoyed a seat in the orchestra and studio band of Willow Creek Community Church. It was here that Dave took his love of ministering and combined it with his passion for music. John Carlson, Music Director at Willow Creek recalls that "Dave was a talented, enthusiastic, and treasured musician who was equally at home as a soloist or as member of Willow Creek's horn section".
Dave received the Instrumental Artist of the Year Award at the 2007 Kansas City Christian Music Awards, along with receiving a nomination for the acclaimed Instrumental Artist of the Year Award in 2008 from IndieHeaven-Momentum Awards, Nashville, TN, Dave Panico is making a "sound" for himself. CCM magazine recognized the talents of Dave Panico and asked for his expertise with a unique article having him iterate about particular brand instruments that allow his sound to come out "smoothly". Dave is Currently working on his 3rd CD project out of Nashville.
His vision is to touch the essence of the inner heart and his mission is to open doors that lead to healing of hardships and struggles in life.