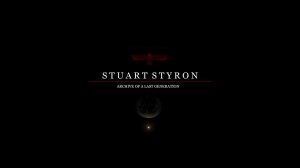 On August 20th, 2016, German actor, composer and chief of "A Leaving Reality Production," Stuart Styron will be releasing his latest album, Archive of a Last Generation. Originally recorded in 2009-10, and revised from August 2015-16, the incredibly strong and powerful album is dedicated to the Aramean history.  As the son of Aramaic parents, Styron says, "The soundtrack would fit perfectly to today's force of Aramaic consciousness, compared to the usual stale folk music. Look forward to a piece of history." The album will initially be released digitally, worldwide, followed by a physical CD release.
Styron says, "It is a very hard process to produce the album with the right portion of vocals. We need the right ancient atmosphere…We started singing in a choir way… Getting a feeling being in a church or in other monument buildings. Yes, Aramaens are the oldest folk in the world. Did you know this?"
Track list of Archive Of A Last Generation:
1. Serpentine Symphony
2. Cave Of Heart
3. Sigh Of The Century
4. Atmosfear
5. Brilliant God
6. Choir From A Dying state
7. Foreign Again
8. Veto Generation
9. Ancient Young
10. Difficult Tradition
11. Every Step you Take
12. Insidehealing
Styron also announced that his album, Humaniac will become available in physical release in October. In November, Styron will release a 10-track, previously archived album with vocals, Leaving Reality.
For more information on Stuart Styron, please visit http://www.stuartstyron.com/.