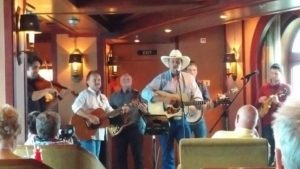 Independent Country Music Hall of Fame artist Richard Lynch has toured the world, performing thousands of concert dates during his nearly 40 years in country music. In July 2017, Richard added Alaska to his travelogue, joining Statler Brother and Country Music Hall of Famer, Jimmy Fortune on a cruise of the United States' northern-most state. The temperatures were cold, but the music onboard was definitely hot.
The ship set sail from Seattle, WA on Wednesday, July 12, 2017, with an intimate and excited crowd of country music fans. Alaskan ports of call would see them dock in Ketchikan, Juneau, and Skagway, as well as Victoria, British Columbia, Canada.  Performances included a Jimmy Fortune concert on Monday the 17th, an intimate cocktail hour/jam session on Tuesday, with Richard singing classics, "Silver Wings" and "The Race Is On" with Fortune and his band, and a final concert on Friday the 21st, with Lynch joining the band for a version of "Amarillo." Saturday the 22nd included a meet and greet/autograph session with Lynch and Fortune.
Plenty of adventures were had along the way, including spotting 3 Orca Whales and a Humpback Whale beside their smaller tour boat, sing-a-longs at local taverns, and exploring Klondike Summit, Mendenhall Glacier, and Nugget Falls.
Jimmy Fortune's band included Billy James on bass (Statler Brothers); Ryan Joseph on fiddle (Alan Jackson); and John Meyer on guitar and banjo.
Watch Richard Lynch performing "Silver Wings:"

"Jimmy Fortune is as fine a gentleman and person as he is a fabulous singer," said Richard Lynch. "Alaska is an amazing place and we highly recommend a cruise whenever anyone can get the opportunity to go."
ABOUT RICHARD LYNCH: Richard Lynch is an American country music artist, who has compiled a long list of country hits and chart toppers in the world of traditional country music. His single, "A Better Place" topped the New Music Weekly AM/FM country chart, the IndieWorld Country Record Report, and spent an incredible 32 weeks atop the Roots Music Report True Country chart. His next single, "We're American Proud" also topped the charts. His latest release, "Cut and Paste" is currently climbing the airplay charts. Richard is a multiple-award-winning artist and a member of the Independent Country Music Hall of Fame.
http://www.richardlynchband.com.
https://www.reverbnation.com/richardlynchband
https://www.facebook.com/RichardLynchBand
http://www.twitter.com/richardlynchbnd