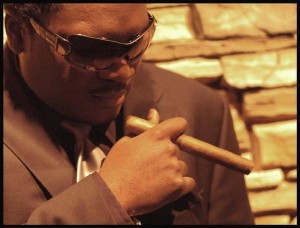 As one half of the production duo Darkroom Productions, Juan Donovan has produced with his partner Jamal Roberts dozens of some of today's hottest artists. That list includes R Kelly, Wale, Young Money, Maino, Kidd Kidd, Brick Squad (BSM), Bad Boy, and more. The duo also won multiple awards for its ground breaking work on HBO's classic series "The Wire" and MTV's #1 show "Rob & Big".   Juan has just released two singles featuring hot new talent from Juan's hometown of Baltimore: "I Got Us" featuring D. Carter and "On The Low" featuring Emellodee.  More singles are on the way with an album release day scheduled for Thanksgiving 2016.  In the meantime, Juan just hopes to continue to entertain and pump out quality music which crosses multiple genres.  Donovan took a few minutes out of his busy production schedule to talk to us about his latest projects:
MTS: You've worked with some huge talents from R. Kelly to Young Money.  You've also worked with unsigned talent, too, including those on your latest album release. How does working with signed artists differ from working with unsigned talents?
JD: Actually there isn't much of a difference.  Quite a few unsigned acts are just as hungry and dedicated as major acts are.  One of the glaring differences would have to be time to work.  When you are an unsigned artist you usually have to work a 9 to 5 or generate income to survive so that naturally takes up the majority of your day.  Whereas when you are an artist for a living, it's easier to dedicate days and time to being creative, recording, etc.  The unfortunate part is when you do work with an unsigned artist who is not hungry or dedicated, that can be extremely frustrating as a producer.
MTS: Tell us about your latest album project coming out on Thanksgiving Day 2016?
JD: My project is a production project called "Sophisticated Ignorance".  Back in 1994 the 3 core members of Sade's band got together and formed their own group called Sweetback and in 1996 they released their debut album of the same name.  Half was instrumental and the other half featured vocals by artists that they were fans of such as Maxwell, Amel Larrieux, Bahamadia, and Leroy Osbourne.  That album, as well as Organized Noise's Society of Soul album damn near changed my life.  As a producer sometimes you are in a box due to the sound you are known for or the sound of what's currently on the radio.  A production album takes you off of the leash and lets you be as creative as you want to be.  Ever since I heard these albums I always wanted to do one and although it took a while to get in motion, I'm finally doing it.  I cover a ton of different genres and I'm experimenting a lot on it.  It's for lovers of great music but still has that edge and rawness that Darkroom has become known for.
MTS: You've worked as 1/2 of the production duo Darkroom Productions. What made you decide to do this project on your own, and how is it different than working with Jamal Roberts.
JD: Well of the two of us, Jamal is the hit maker.  That dude can spot a hit a mile away and can make one with his eyes closed.  Me on the other hand, I just like to make heads nod and crush speakers.  I'm really not focused on making hits on this project more than I am just trying to make dope f*cking music.  I feel like that is an art that is gone.  As a producer and indie label owner I have the pleasure of making hits and hot music with different artists and my talented partner.  "Sophisticated Ignorance" has no classification, its just dope.
MTS: You've won multiple awards for your work on HBO's "The Wire" and MTV's "Rob and Big." Tell us about the awards, and how you became involved with working on those series?
JD: I'm not stranger to releasing independent projects as Jamal and I really got our break from a mixtape we released a few years back called "Hamsterdam – The Best of Baltimore".  It was a project featuring the hottest rappers in Bmore at the time over our original production.  The mixtape became a smash and got us nationwide recognition including a nomination for a Justo Award which was like the Grammy for mixtapes.  HBO's hit series The Wire was on the air at the time and the creator David Simon and the music supervisor Blake Leyh got their hands on the mixtape and thought it was the sound needed for the show, so they reached out and enlisted us to compose original material for a few seasons.  Soon after, the music supervisor from Viacom's "Rob & Big" called as well enlisting us to compose for what was the #1 reality show on television.  We were the first producers from Baltimore to have such feats and that lead to Baltimore Magazine naming us Producer of the Year two years in a row.
MTS: What is most important to you: industry awards, sales, or critical praise? and why?
JD: Wow that is a tough question.  See my idols are the composers and producers of the 70's like Norman Whitfield, Gamble & Huff, Chuck Jackson & Marvin Yancy, etc.  Guys like that made phenomenal ground breaking music, but they also got received the acclaim for their work as well.  All of those guys have Grammy nods.  So I guess having that balance where you do great work and then get recognized for that work from your pears is what I would like to achieve.
MTS: What does Juan Donovan like to do, outside of music, and if I were to come to your house for dinner, what would you serve?
JD: Actually the world of entertainment is all I do, period.  Film, Television, and Music are my life.  So if you came over my house for dinner I would give you a bucket of popcorn and we would watch a classic like Pulp Fiction and afterwards we would bump the soundtrack to it lol.
Thanks for taking the time, Juan!  Best of luck to you and your artists on the upcoming release of "Sophisticated Ignorance."
juandonovan.com
twitter.com/juandonovan
soundcloud.com/juandonovan
instagram.com/juandonovan