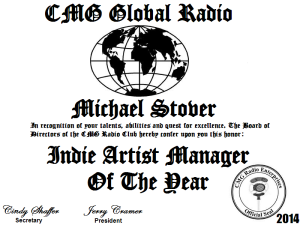 MTS Management Group is happy to announce Marshall Dane, Western Avenue and Michael Stover are winners at the 2014 CMG Global Radio Awards. Canadian country singer/songwriter, Marshall Dane was named "Male Entertainer of the Year," Canadian country trio, Western Avenue was named "Group of the Year," and Michael Stover (of MTS Management Group) was named "Indie Artist Manager of the Year." Both Marshall and Western Avenue had MTS-promoted releases top the CMG Global Radio Network charts during 2014.  This is the second consecutive win for Stover/MTS.
"Wow! What an incredible honor," said Michael Stover.  "I'm just so thrilled for Marshall and the great folks of Western Avenue.  They are all extremely talented people and very deserving of the recognition.  Thank you to all of the DJs throughout the CMG Global Radio Network, who have played my artists throughout the years.  We couldn't do it without you!  I'm very blessed by the award, personally.  It's amazing to be recognized by your peers, for all the hard work, time, money and effort that is put in on a daily basis.  Thank you!"
Other 2014 CMG Global Radio Award winners include Richard Lynch (Male Vocalist), Darrell Nash(Male Songwriter), and NBRN.FM (CMG Associate Station.) For a complete list of winners, visithttp://cmgglobalradio.com/cmgglobalawards.html.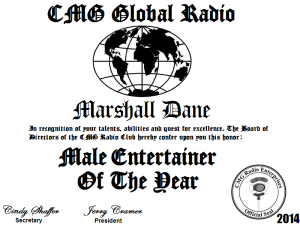 The CMG Radio Network is part of Cramer Multi Media Group. They own and operate 350 network online radio stations, playing the best of indie music of all genres, with an emphasis on their CMG Radio Club Members. They also host syndicated programming throughout the week. For more information, visit http://www.cmgradio.info.
Marshall Dane is an Ontario, Canada-based country singer/songwriter.  Nominated for four Country Music Association of Ontario (CMAO) Awards, 3 ICoMA Awards and 3 IMEA Awards, Dane has topped several US and international airplay charts with his single, "Alcohol Abuse" and album, One Of These Days. For more information, visit http://www.marshalldane.com.
Western Avenue is an Ontario, Canada-based country trio, featuring members Matt Williams, Nikki English and Keith Robertson. A Nashville Universe Award winner, CMAO Award Nominee and ICoMA Award Nominee, they topped several US and international airplay charts with their debut US single, "Wherever You Are."  Matt is currently charting with "Make Love Tonight." For more information, visithttp://www.westernavenue.ca.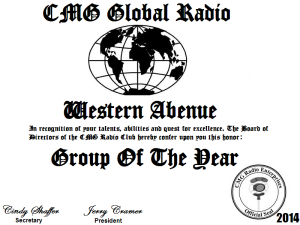 MTS Management Group is a full service artist management, publicity, promotions and social media company. MTS' current roster includes Bradford Loomis and Beth Whitney, Doug Briney, Ed Roman, Hicks, Jiggley Jones, Josey Milner, Marshall Dane, Xander Demos and the Whiskey and Cigarettesradio show.  MTS is a Nashville Universe Award Winner and IMEA Award Winner. For more information, visit http://www.mtsmanagementgroup.com.