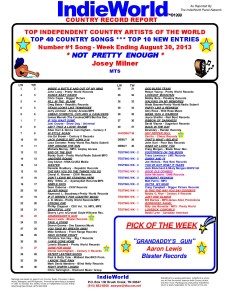 After five months on the Indie World Country Record Report, teen country starlet, JOSEY MILNER has reached NUMBER ONE on the chart with her first "official" US radio release, "Not Pretty Enough." The single, written by KASEY CHAMBERS and produced by Micah Burdick, was recorded at Awestruck Studios in Josey's hometown of Kansas City, MO. Engineers on the track were Matthew Russo (Hall and Oates) and Larry Gann (Elton John, John Rich.) The track was used as a launching pad for Josey's anti-bullying campaign with national non-profit, Angels and Doves.
"We're all so proud of Josey!" said her manager, Michael Stover of MTS Management Group. "Not Pretty Enough' was the first official release with the MTS label name on it, and to have Josey take it to the top of the charts is amazing. She's an exceptional talent, and we're blessed to have her on the roster. Congratulations, JoMills!"
"Not Pretty Enough" entered the Indie World Country Record Report on March 22, 2013. The single had previously reached #23 on the New Music Weekly country chart and #105 on Music Row. The video for the track, with fan-submitted photos and an anti-bullying message, has received close to 150,000 views on Youtube. Josey's follow up single is expected for release in October.