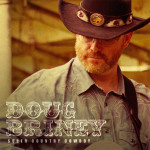 Super Country Cowboy, DOUG BRINEY recently answered some questions for our friends at MuzicNotez.com. Here's a brief excerpt:
MuzicNotez: Who were your musical influences, idols, or bands growing up that have helped mold you into the musician you are today? Or helped mold the music that you create?
Doug Briney: Kenny Rogers, Lee Greenwood, Alabama, Larry Gatlin and the Gatlin Brothers. My first record I ever owned was a Kenny Rogers album and my first concert was Larry Gatlin and the Gatlin Brothers at Knott's Berry Farm.
Find out more by reading the whole interview HERE.

MuzicNotez.com and The MuzicNotez Magazine are here to promote everything indie. The best new songs, videos and artists are continually exposed inside their magazine. They also present industry tips and recommendations for you to best succeed and become heard all around the world.