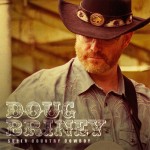 MTS Management Group and country music artist, Doug Briney are happy to announce Doug has revealed the artwork and a 50-second clip of one of the tracks from his forthcoming Tate Music Group release, "Super Country Cowboy." A clip of the title track and the artwork were posted earlier today, on Doug's facebook page at http://www.facebook.com/dbsongs. The song snippet is the first clip in a series that will be posted to the page, leading up to the scheduled October release of the album.
"We are so excited about the new Doug Briney album," said Michael Stover, Doug's manager, of MTS Management Group. "Doug's first album was great, and he has had a lot of success with it. We believe that this album shows some incredible growth for Doug. The songs are top-notch and his voice is better than ever. Fans have been clamoring to hear something from the record, and we just couldn't hold back any longer."
"Super Country Cowboy" is the title track from Doug's Tate Music Group album. The song was written by Kevin Douglas, Rockie Lynne and Allen Sostrin. The track was produced by Don Johnson at TMG Studios. The cover photo was taken by Brock Lay.
Doug Briney is a 2013 Independent Country Music Association award winner (Best Live Performance.) His debut album, "It's All Country" is currently on the Roots Music Report True Country Chart, where it has been for more than 8 months, peaking at #6. Doug signed with Tate Music Group in February of 2013. For more information, visit http://www.dougbriney.com.