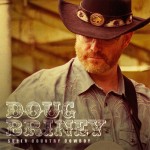 MTS Management Group and country music artist, Doug Briney are pleased to announce the pre-sale of Doug's second album, "Super Country Cowboy." The album, his first with Tate Music Group, is now available for pre-sale on Doug's website at http://www.dougbriney.com. As a bonus for ordering the album before its official release later this fall, purchasers will receive a signed copy of the cd, when it is available. They will also receive a personal phone call from Doug and a free mp3 of the album's title track.
"We're extremely excited about Doug's new album," said Michael Stover of MTS Management Group. "We just released a teaser video, with clips from several of the new songs, and fans can also hear snippets for each song on Doug's website. We worked with some amazing songwriters, and Don at Tate Music really produced some great tracks. I think Doug's fans are just going to love this new record. He's been getting fantastic response at his live shows, for the new material. Anyone that liked Doug's first album, "It's All Country" will absolutely be floored by the new record."
"Super Country Cowboy" was recorded at TMG Studios in Oklahoma, in May of 2013. It features nine tracks, produced by industry veteran, Don Johnson. No official release date has been scheduled yet, but it is expected to be in late fall 2013.
Doug Briney is a 2013 Independent Country Music Association award winner. Recently relocated to Nashville, TN, the Alaskan Cowboy has performed for the Iditarod Race, the Jackson Generals, and he will appear on the Grinder's Switch Hour radio broadcast this Saturday.