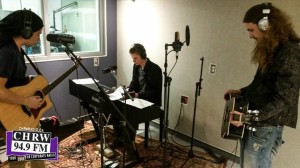 Prairials is an Indie Folk trio based out of Toronto, Ontario. Comprised of three brothers originally from Saskatchewan's smallest city, the group had released their debut album and toured across Canada within five months of their inception just over a year ago. Armed with a banjo, upright bass and keyboard, Prairials combines electronic and folk music to create a truly unique sound. They recently took time out from their busy schedule to talk about touring, Toronto and their latest album release, The Strange Folk.
MTS: How did you come up with the name, Prairials?
Prairials: Prairials was a month in the French Revolutionary Calendar a couple hundred years ago. It comes from the French word for prairies (who would have thought?) and seeing as we all come from the prairies, it seemed fitting… plus, everyone who asks us how we came up with the name now gets a nice little history lesson shoved down their throat, so that's a bonus.
MTS: All 3 of you are originally from the smallest city in Saskatchewan. How did moving to Toronto influence you musically, and personally?
P: The city we grew up in was great, but there wasn't a lot going on music-wise. People listened to the #1 hits in pop, country or rock. Oh and polka. If you were seeing a live concert in town, it was polka. Moving to Toronto let us soak in so many different kinds of music. You can see live bands every night, playing all kinds of music and that's what we did. It really let us experience the scene like it should be. Without that influence, things like mixing electronic beats with a banjo and an upright bass may have seemed too bizarre to consider. It turns out there's a genre for anything.
MTS: You've done a lot of touring. Where is your favorite place that you've played, and what was the most interesting/craziest thing that's happened to you on the road?
P: I'd have to say that Banff was my favourite city for touring. After a day of hiking mountains and being charged at by a couple mule deer, we played a show in front of fans that have never heard of us. By the end of the first song it was a classic hoe-down. Guys were throwing and flipping their gals in the air and the whole room was full of fans stomping and singing along. It was a ruckus, and it was great.
It's hard to choose just one crazy thing that's happened on the road but I'll tell the story of how that night ended. This drunk guy invited us to stay at his place for the night after the show and we figured it might be a fun adventure. It took forever to get there because he kept saying "just kidding" when he gave us directions. We get to his house, which he had been living in for years and which was fairly big, but there was literally only two things in it. He had a bed as the only piece of furniture in the entire house and the biggest mountain of empty beer cans we'd ever seen in the kitchen. We stayed up for a few hours exchanging stories and listening to music. Soon enough he passed out, but would wake up just enough to throw in some dance moves… while still lying on the floor seemingly passed out. He kept passing out and then regaining consciousness for a few seconds to "dance"… the whole night. We eventually fell asleep on the floor through all this and when we woke up, there he was, pounding back some more good ol' cider.
MTS: You are recording your second album. How is it similar or different to your debut, 'Face In the Mirror?"
P: This time around we brought our sound to the edge. We had a folk-rock band originally, but wanted to bring out the folk some more. We've incorporated more banjo and started playing with Quinn Read on the upright bass. We also wanted to add something completely opposite to it and that's the electronic aspect. We had drum samples on our debut CD, but "The Strange Folk" album embraces it so much more.
MTS: You are planning an upcoming Canadian tour…what cities will you be performing in? Any plans to tour the USA?
P: We're playing almost every major city in Canada between Montreal and Vancouver. You can find our tour schedule on our website www.prairials.com. As for the USA… we're coming for you, just hold your horses for now!
MTS: Critical Praise, Sales, or Industry Awards? Which is the most important to you and why?
P: Some hoity toity critics and awards panellists can say whatever they want and if we were playing music for the money we probably would have quit by now ha. We'll have to say critical praise, there's no better feeling than playing a show and watching people dance to your music, or come up and tell you how much they enjoyed listening to your album.
We wish you all the best with the new album, guys!  Go check out Prairials…coming to a city near you, soon!