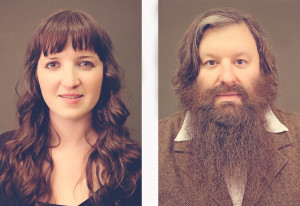 MTS Management Group and MTS Records are happy to announce the release of Bradford Loomis and Beth Whitney's The Banner Days EP.  The Americana/folk singer/songwriter duo' has been compared to Civil Wars and Robert Plant and Alison Krauss. Their critically acclaimed release is now available at radio and retail outlets, including itunes. The Banner Days was officially launched on August 23, 2014 at a CD release party, held at an undisclosed location in Crown Hill, WA. The first single, "My Beloved" is already airing on international radio outlets. The song has topped the OnlyLyrics Top Country Songs of the Week chart.
"We are extremely excited about this release," said Michael Stover of MTS. "The reaction to this EP has been overwhelming, right out of the gate!  Bradford and Beth have been working their collective butts off, doing a ton of press for this release.  I commend them for their enthusiasm and drive.  The talent that these two bring to the table is incredible; they are both amazing singer/songwriters in their own right.  To have them both on the same project is a double-threat.  I'm very honored that MTS has the pleasure of working on The Banner Days."
Critical praise has been forthcoming for the The Banner Days: James McQuiston of Neufutur Magazinesaid, "Loomis and Whitney create a style of music that deftly ties together country, indie, and singer-songwriter formats into something that will keep listeners on the edges of their seats." Very Cool Tunessaid, "This EP is Exquisite! Bravo!"  "Beth Whitney and Bradford Loomis stun on their haunting single "My Beloved," said renowned journalist, Markos Papadatos of Digital Journal. "The musical chemistry they have together is undeniable and they are the quintessential combination. It garners an A rating."  The release was also among Hit Tracks Top 100's Top 5 Most Recommended Albums.
The duo of Bradford Loomis (guitar, vocals) and Beth Whitney (ukelele, vocals) began as a casual co-writing experiment.  From the first time they played together, along with Beth's husband/collaborator, Aaron Fishburn, the chemistry has been powerful. The combination of Beth's delicate, pure, and melodious voice and Bradford's soulful, growling tone makes for a beautifully heart wrenching harmonious blend. With equal parts sweetly anthemic, pop tinged folk, provided by Beth, and Bradford's gritty, passionate Americana Roots sound, The Banner Days is an intrepid step for both artists.  For more information, visit http://www.thebannerdays.com.