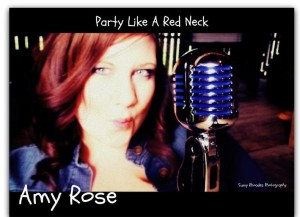 MTS Management Group and Amy Rose are proud to announce that Amy's video for "Party Like A Redneck" has been selected for airing in over 8,500 retail and broadcast outlets across North America, as part of a music video opportunity from Pulse Records. The video will air on outlets such as VH1, MTV, BET, FUSE, MuchMusic, "The Bite" and more. This extensive network reaches over 181.5 Million active viewers nationwide.

The video for "Party Like A Redneck" was directed by Alex Colthart for Raw Footage Productions. Shot in Ontario, Canada in 2012, the video has received more than 400,000 Youtube views. It has also aired on CMT in Canada and was in the Top 25 Most Watched Videos on Y'allwire. Co-written by Amy, the single is currently playing on US radio stations.
Musicians on "Party Like A Redneck" include Mark Prentice, Bass (Michelle Wright, Joe Diffie;) Glen Duncan, Fiddle (Shania Twain, Miranda Lambert;) Wayne Killius, Drums (Big & Rich, Luke Bryan;) Michael Severs, Electric Guitars (Dolly Parton, Eric Church;) Pat Severs, Pedal Steel (Billy Dean, Kevin Sharp;) Mike Rojas, Keyboards, Piano (Tim McGraw, Lady Antebellum;) and Billy Panda, Acoustic Guitar (Jason Aldean, Lonestar.)
Amy Rose is a 2013 Independent Country Music Association award winner and 2013 Ontario Country Music Association award nominee. Her third album, "The Beginning" is scheduled for late 2013/early 2014 release. Amy will be opening for Big and Rich at Lucknow's Music In The Fields on Saturday, August 24, 2013.