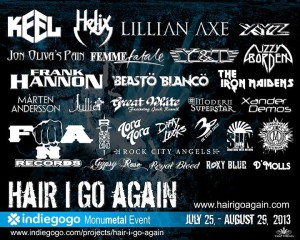 MTS Management Group is proud to announce XANDER DEMOS has been added to the lineup of metal artists featured on the accompanying digital compilation for the feature-length metal documentary, "Hair I Go Again." Xander has licensed his track, "Under A Darkened Sky," from his album, Guitarcadia, for inclusion on the compilation. The compilation is available as a reward for all backers during the film's MonuMetal Backers Rewards Event on Indiegogo, which runs from July 25th through August 29th. The online event is in support of the film's final production stage. Xander is also slated for an on-camera appearance in the film. For more information, visit http://www.hairigoagain.com.
"Hair I Go Again" is currently in production, and will feature interviews with some of the biggest metal bands from yesterday and today. Some of the artists featured in the film include, members of Quiet Riot, Anthrax, Winger, Queensryche, Dokken, Motley Crue,Stryper, Firehouse and more. Other artists appearing on the compilation will include KEEL, Frank Hannon of Tesla, Lillian Axe, Y&T, XYZ, Tora Tora, and many more.

Xander Demos is a metal guitarist for James Rivera (Helstar, Malice) and Sabbath Judas Sabbath. He also fronts his own band, XDB. He has appeared on releases by Liberty 'N' Justice and Ged Rylands, and he will be performing at Skull Fest, Rock Harvest II and Wolf Fest. For more information, visit http://www.xanderdemos.com.
"Hair I Go Again," produced by Kyle Kruger and directed by Steve McClure, chronicles the improbable journey of two lifelong friends who, facing mid-life, ultimately realize their mortality and set out to reform their hair band from the 80's. Their ultimate goal – perform as an opening act for one of their heavy metal idols. Featuring candid interviews with some of the most influential musicians and industry professionals in the business. Their expert opinions, sound advice and career guidance help steer the way for the formidable task at hand.