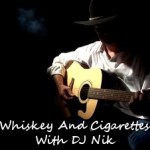 MTS Management Group is happy to announce their client, the "Whiskey And Cigarettes Radio Show" has secured its twentieth syndicating radio station. On Friday, July 12, 2013, WDMU Internet Radio became number twenty, agreeing to carry the weekly country radio broadcast. WDMU originates from Allentown, PA and airs at http://www.wdmuinternetradio.com. "Whiskey And Cigarettes" will begin airing on WDMU on Sunday, July 21 at 9pm ET.

"I can't believe how quickly this show has taken off," says Michael Stover of MTS Management Group. "We've only been working with the show for a little over a month, and we've got twenty stations broadcasting with us. Dj Nik (Pizzigoni) is doing an amazing job of putting together quality shows, week in and week out. We've got some great, award-winning guests lined up for the show, and his interviews are always in depth and insightful. With the twentieth station coming on board, we are reaching a potential audience in the millions! We will continue to expand our listenership, and we will be taking on sponsors by the end of the month. Congratulations to Nik and "Whiskey and Cigarettes."
"Whiskey And Cigarettes" originates from Milan, Italy and is broadcast live each Sunday from 11am ET-3pm ET on http://www.militarybrotherhoodradio.com. Syndicating stations can choose to air the full 4 hour program or an edited 1 or 2 hour version. Additional syndicating stations include KHXI-FM, KRRN, Wise Radio, Scott and Roger's Country Round Up, Hot Country 102.9, Starliners Radio, NBRN FM, Sound Machine Country, ACRN FM, NJ Kewl 98, WHPR, Radio Waves International, Kick Ass Country, NI Country Radio, WRCF, CMG Radio, Country Mania Radio, Radio Max Music. Interested radio stations and sponsors may contact Michael Stover at michael@mtsmanagementgroup.com.
"Whiskey And Cigarettes" features the best mix of country music from yesterday and today, including indie artists, and it features artist interviews with some of the most exciting country artists, brain-tingling trivia, audience-engaging contests, noteworthy news events and much more. A 12-year veteran disc jockey and music journalist, Nik Pizzigoni is also the host of "Metal From Milan," a heavy metal radio show. His love for country music developed from a memorable visit to the southern United States. For more information, visit http://www.facebook.com/whiskeyandcigarettes.