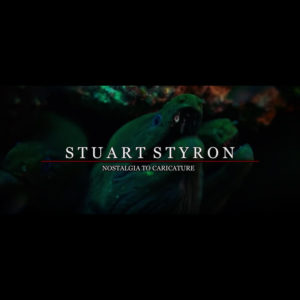 A few days ago, there were some rumors about a new album from Stuart Styron…well, the rumors were true!  Stuart Styron talks about the release of the new album, and the stories behind the songs:
Styron says, "The flash dicision to release the album Nostalgia To Caricature, is a thing I can`t talk about. Nostalgia To Caricature is a complex creative manifestica taken from my archive of 2007. I`ve worked already every two weeks, on that album in the last 2 years. I had to check and think over and over again. The theme is not really complex – The birth of human, which time, our origin..so its a Time machine from the listeners position. Song No.7 'Past Present Fossil' describes it perfectly. Instead of 'Future' I wanted to go back to 'Fossil', so higher than our 'Past'. In 2007, I had the process of thinking about 'where we humans came from.' Everything started with water so we were a 'fish'. Later the fish wanted to get out from water…that`s our real biography- not more."
Styron continues, Nostalgia To Caricature is all about those creatures, about our Epoch, our 'Code." Tracks like 'Cycle Zero' or 'Transferjumper' will bring you more and more to the essence of Nostalgia To Caricature. Every single instrument on that album was played and recorded "live" without cutting. Also, the vocals and all other psychedelic voices were recorded 'live.'  I used 2-3 different microphones at same time, already with different effects to create our planet from 'Cycle Zero'. I`ve just had to listen to my intuition during the improvisations. The planet must have been in a dangerous Modus at the same time with pure happiness. I´ve tried to find the right sound.
So, all 'live' instruments is the reason why I didn`t wanted to cut and get the right tone to the right place. I believe in this process of creativity. We do not always have to listen music from the studio. It is great, but sometimes not natural. It`s all to perfect and our reality is not 'clean', permanent. Most producers are not using open atmospheric; everything sounds like there is no air to breathe. Its too quiet for a sequence where an artist doing a party with 100 drunken guest on a beach or whereever."
Styron finishes by saying, "The album is very alternative-psychedelic. I would say. Not music for everybody. From time to time you're gonna love this album, believe me. It´s fast, experimental proudly, interesting and inspiring at the end – If not, you can go on as a 'Slave Of Commerce."
You can listen to Nostalgia To Caricature on every streaming site and every music store. Next time, there will be a site with all information about the album.