Richard Lynch Continues Line of "Real" Country Singer/Songwriters
By Drew Farmer
Twitter @DrewMFarmer
Facebook @DrewFarmerFreelance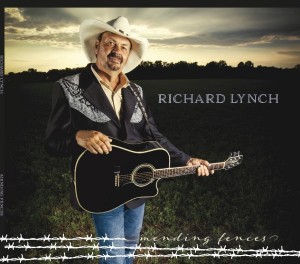 The lines of country music and pop have been blurred over the years with musicians toeing the line of both music genres. Richard Lynch makes no excuses for avoiding the country-pop music border, and the country music veteran has dived deep into the waters of traditional country with his cowboy boots and hat on.
Lynch released his latest country music album, Mending Fences, in the spring of 2017. The album has received critical acclaim thanks to Lynch's wonderfully crafted songs and honest lyrics. The album, like Lynch, is a slice of pure, no-nonsense country in the vein of Waylon Jennings, Merle Haggard and Conway Twitty. The songs, while never ripping off those greats, show the influences of the men that came before Lynch.
"Country music, to me, is the pure sound of people," Lynch said. "It needs to be music with a story that fans can relate to."
The writing of the album's title track shows the working-class, country mentality is still alive in the musician.
"The title track was written in a cold, old barn in Alabama," Lynch confides. "Several months go into these projects, picking the right songs is very time consuming. If I don't feel the lyrics, I have no interest in recording them."
Relatability is the essence of what Lynch is as a singer and songwriter. Not only does he want his songs to relate to the common American, but he finds inspiration in his work outside of music. The country music award winner delves into activities away from his guitar to experience living the true country lifestyle. It is that lifestyle that influences Lynch's work and helps him create music.
Mending Fences continues to explore the narratives that Lynch has become so well-known for singing about on past efforts. The album also features a duet between Lynch and famed singer Rhonda Vincent on the song "Back in Love Again."
"Working with Rhonda was incredible," Lynch stated about the experience. "She is such an amazing talent and genuine person, it was a memorable experience for sure."
The rest of 2017 will be filled with touring around the United States for Lynch and his band. The group continually crisscross the nation to play for fans new and old.
"I love and greatly enjoy playing for fans, new and old. It is a wonderful feeling to see them connect to my music," Lynch said.
 Connecting with the music is one of the most important aspects for Lynch. In an age when music is disposable and plastic, Lynch and his band offer something real to fans of pure, traditional country music.
"It all starts with great songs," Lynch stated. "We have been truly blessed to have amazing music pitched to us when we are doing a new project."
With concert dates and plans for more music in the pipeline in 2017, there seems to be little time for Lynch to rest. But like his music idols of Jennings, Haggard and Twitty, there is never time to recoup when great music must be made.