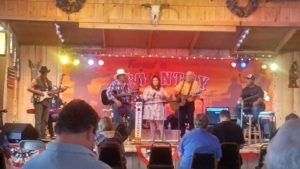 You'd be hard-pressed to find a musician as authentic as Richard Lynch, whose traditional country music fully embodies his hay-raising, farm-dwelling lifestyle. An all-American, blue collar country man, Lynch has poured his heart and soul into the countless chart-topping hits he and his band have produced. Richard is a hard working, personification of pure country. He has been a designer and builder of amazing barns, and as should be expected, he is an American farmer.
Richard is the founder of the Love Tattoo Foundation for veterans, and he's also donated his time and talents to raising funds for farmers, ranchers, and patriotic causes.
On Tuesday, July 4th, 2017, Richard Lynch and his band performed alongside music legend, Peter Yarrow of Peter, Paul & Mary fame. The concert event, held at Keepin' It Country Farm in Waynesville, OH, was a benefit for the southwestern chapter of national non-profit organization, Better Angels. The show kicked off the Better Angels' "One America" tour.  Better Angels is devoted to reuniting America and working for what the US Constitution calls a "more perfect union."
Joining Lynch and Yarrow on stage for a version of "Puff the Magic Dragon" and "This Land is Your Land" was Ronnie Lynn.  Watch the video at https://www.facebook.com/RichardLynchBand/videos/1529893420389343/.
For more information about Better Angels, please visit http://better-angels.org/.
For more information about Peter Yarrow, please visit https://www.peteryarrow.net/
ABOUT RICHARD LYNCH: Richard Lynch is an American country music artist, who has compiled a long list of country hits and chart toppers in the world of traditional country music. His single, "A Better Place" topped the New Music Weekly AM/FM country chart, the IndieWorld Country Record Report, and spent an incredible 32 weeks atop the Roots Music Report True Country chart. His next single, "We're American Proud" also topped the charts. His latest release, "Cut and Paste" is currently climbing the airplay charts. Richard is a multiple-award-winning artist and a member of the Independent Country Music Hall of Fame.
http://www.richardlynchband.com.
https://www.reverbnation.com/richardlynchband
https://www.facebook.com/RichardLynchBand
http://www.twitter.com/richardlynchbnd
https://en.wikipedia.org/wiki/Richard_Lynch_(musician)