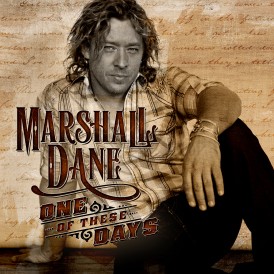 MTS Management Group would like to congratulate Canadian country rocker, Marshall Dane on his Number One Roots Music Report Pop Country Single, "Alcohol Abuse" and Number One Pop Country Album, One Of These Days. The Dan Brodbeck-produced single and album top their respective charts for the week of July 20, 2014. Dane bests Top 5 singles and albums by Chris Young, Luke Bryan, The Band Perry and Cole Swindell. This is Dane's first RMR chart-topping single. His album topped the charts back in April.
"We're thrilled for Marshall's successes here in the states, and around the world," said Michael Stover of MTS Management Group, who are responsible for US and international radio and publicity for the releases. "Alcohol Abuse" has really done a lot to put Marshall on the map. For a debut single to come out and top the New Music Weekly charts, hit Top 60 on Music Row, AND top the Roots Music charts…it's a pretty incredible feat. Thank you, radio and the fans, and congrats, Marshall!"
Marshall Dane is based in Port Credit, Ontario, Canada. He is a four-time Country Music Association of Ontario Nominee, having been nominated for Best Male and Best Album in both 2013 and 2014. Dane is also nominated for several 2014 Independent Country Music Association Awards, including Single of the Year, Best Live Performance and Best Songwriter. "Alcohol Abuse" was released in the US in February. For more information, visit http://www.marshalldane.com.
Roots Music Report compiles radio airplay data reported by radio station DJ's, Music Directors and Program Directors around the globe that play all forms of roots music, so that each week you can see which artists are being played the most on these stations. For more information and to view the charts, visit http://www.rootsmusicreport.com.