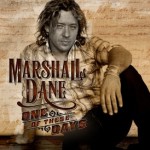 Canadian country singer/songwriter and multi-award nominated artist, Marshall Dane has just added another nomination to his collection: CD of the Year, Indie Music Digest!  Dane's latest, One of These Days received the honor, with reviewer, Cyrus Rhodes giving the disc 9 out of 10 stars, saying:
"From start to finish "One of These Days" is an impressive musical release from Marshall Dane. The music is grooving, upbeat and entertaining. The songwriting – all consistent musical experiences, each one possessing a unique personality, flair and signature groove. The writing, playing and singing abilities of Marshall Dane and his band are rock solid. The artistic presence from Dane is impressive and his overall persona is something many folks (especially females) should gravitate towards."
Read the entire review at www.indiemusicdigest.com.