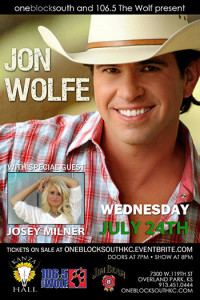 MTS Management Group and Kansas City-based country music artist, JOSEY MILNER are happy to announce Josey will be opening for Warner Nashville recording artist, JON WOLFE. The concert will take place on Wednesday, July 24, 2013 at Kanza Hall, located at 7300 West 119th Street, in Overland, Kansas. Doors open at 7pm, with Josey performing an acoustic set at 8pm. Tickets are $8 at http://www.oneblocksouthkc.eventbrite.com.
"We're very excited for this show," said Josey's manager, Michael Stover of MTS Management Group. "Josey puts on a heck of a live show, and as energetic as her full band performances are, her intimate, acoustic ones are extremely captivating. We really look forward to sharing this special night with the fans at Kanza Hall."

Jon Wolfe's current single, "The Only Time You Call" is airing on country radio, with the video being featured on CMT. Warner Nashville recently re-released his 2010 album, "It All Happened In A Honky Tonk," featuring song written by hit songwriters for GEORGE STRAIT, CONWAY TWITTY and CHRIS CAGLE. For more information, visit http://www.jonwolfecountry.com.
Josey Milner is a 2013 Independent Country Music Association award nominee, chosen as one of the Top 10 Hot New Artists by PDS Entertainment. Her debut US single, "Not Pretty Enough" reached the Top 25 New Music Weekly, receiving international airplay. She is a spokesperson for national anti-bullying charity, Angels and Doves. For more information, visit http://www.joseymilner.com.