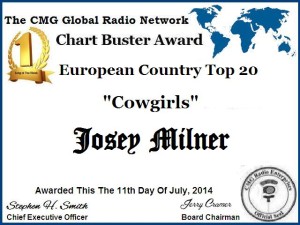 MTS Management Group would like to congratulate Josey Milner on her Number One CMG Radio European Country Top 20 chart single, "Cowgirls." The song tops the chart for weekending July 11, 2014. "Cowgirls" bested Top 10 releases by Artie Rodriguez, Marshall Dane, and Larry Vannatta, among others. The single was also selected as their Country Song of the Week, two weeks ago. This news comes as Josey is kicking off her new partnership with Piasecki MD, to promote her anti-bullying charity, Angels and Doves.
"What can I say about 'Cowgirls?" said Josey's manager, Michael Stover, of MTS Management Group/MTS Records. "This song just keeps on keeping on! We released it late last year, and here we are, 9 months later…and it's still topping charts around the world. Congratulations, Josey! I can't wait to see what comes next, from Josey. What ever it is, it's sure to burn brighter and hotter than any bonfire, that's for sure!"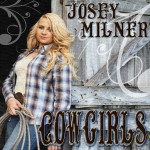 The CMG Radio Network is part of Cramer Multi Media Group. They own and operate 350 network online radio stations, playing the best of indie music of all genres, with an emphasis on their CMG Radio Club Members. They also host syndicated programming throughout the week. For more information, visit http://www.cmgradio.info.
Josey Milner is based in Kansas City, MO. She is a 2013 International Music And Entertainment Association Award nominee, a 2014 Nashville Universe Award nominee, a recent Magna Cum Laude high school graduate, Miss Odessa, Missouri, and an Angel Ambassador with national non-profit, Angels and Doves. She also works closely with Shriners Hospitals. For more information on Josey Milner, visit http://www.joseymilnermusic.com.