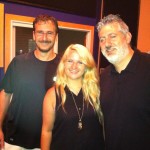 Teen country music artist, JOSEY MILNER is finishing work on her second US radio single, "Cowgirls." The single is being produced by the team at Awestruck Studios in Kansas City, Missouri, the same team that produced Josey's anti-bullying anthem, "Not Pretty Enough." A late July/early August radio release is expected, with digital and physical sales distribution to follow.
"Cowgirls" producers are veteran engineer, MATTHEW RUSSO, who has worked extensively with one of the top rock acts in history, HALL AND OATES; and MICAH BURDICK, who is not only co-producing, but he played guitar, mandolin and singing backup vocals. Mastering is being done by LARRY GANN, who has worked with ELTON JOHN, JOHN RICH, BACKSTREET BOYS and many others.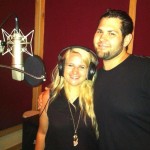 Gann also played drums on the track. Other musicians on "Cowgirls" include: JIMMY MATTINGLY, best known for his work with REBA MCENTIRE and GARTH BROOKS, on fiddle; Craig Kew, bass; and Steve Curry, steel guitar. The song was written by Hillary Lindsey, who has written hits for CARRIE UNDERWOOD, MARTINA MCBRIDE, SARA EVANS, and more; Angelo Petraglia, who has written hits for TIM MCGRAW, TAYLOR SWIFT and BROOKS AND DUNN; and Ryan Tyler (McPherson.)

"If this song doesn't get you up on the dancefloor at the local honky-tonk or dance club, then I don't know what will," said Josey's manager, Michael Stover of MTS Management Group. "With her rodeo roots, 'Cowgirls' is the perfect song for Josey. She could really put herself into it. We've got some big plans for this single, including a 'Best Dance Contest' on Youtube, a Cowgirls Costume contest, a location music video shoot, and of course, a radio tour, bringing Josey back across the mid-west and beyond. Josey cracked open a lot of doors with 'Not Pretty Enough' and with 'Cowgirls,' she's going to kick them in!"
Josey Milner is based in Kansas City, Missouri. She is a 2013 Independent Country Music Association award nominee and a spokesperson for national anti-bullying non-profit organization, Angels and Doves. She recently performed at CMA Fest, and opened shows for SCOTTY MCCREERY, CHRIS CAGLE and will open for JON WOLFE on July 24th. For more information, visit http://www.joseymilner.com.