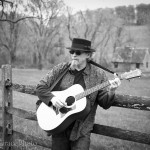 Award-winning singer/songwriter, Jiggley Jones was recently interviewed by music blog, More More Sound.  Here's an excerpt from their conversation:
What is your impression of the current country music scene? Do you see it as an evolving genre or as something that sticks to the roots?
It's definitely evolving and it reminds me of the way the Rock genre is always evolving with at least it's toe touching some root of the original. It's not "your father's" Country music anymore. Sometimes change is a tough pill to swallow but most times it's a good thing. My analogy has always been that if Country Music was a river, then all the "new" type Country would be the tributaries that branch out and reach people that normally wouldn't have been reached.
Read the entire interview at www.moremoresound.tumbler.com.