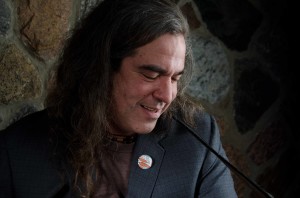 Our resident musical madman, Canadian singer/songwriter, Ed Roman was recently interviewed by Jamsphere.com, a top-ranked indie music magazine.  Here is a brief excerpt from that conversation:
You're a multi-instrumentalist. Which is the first instrument you actually laid your hands on? And which is the one you feel you still haven't quite mastered?
Ed Roman:I gravitated to string instruments at first. String instruments play on my heart strings. I started playing the guitar at a very young age; probably by age six or seven. As I got older I got into playing the bass as I mentioned. Jaco Pastorius was one of my biggest influences. I went on to Humber College to study jazz performance and I've been playing jazz music, fusion music, Funk, R&B, disco, swing and anything you can think of.. rock, metal, all sorts of stuff. I am a multi-instrumentalist and I'm always learning. To master an instrument is to say that you're partially defeated. I believe that you're always learning. There may be some instruments where I have more prowesses on and others that I don't, but I'm always experimenting and trying to move forward.
 "Letters From High Latitudes", "Oracles & Ice Cream"…Do you think hard about themes in your album titles or do they just arrive off the cuff?
Find out Ed's reply and read the entire interview at http://jamsphere.com/twentyquestions/ed-roman-interview-letters-from-high-latitudes-and-other-stories.