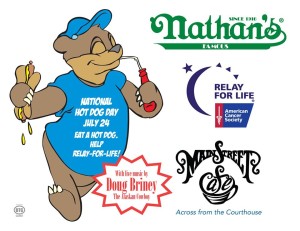 MTS Management Group is pleased to announce DOUG BRINEY will be performing at the Chester County, Tennessee Relay For Life Benefit on Wednesday, July 24, 2013. The event will take place at the Henderson Courtyard, Henderson, TN (across from the courthouse.) Doug will perform from 4pm-6pm. He will also be available for photos and autographs. The free event, which coincides with National Hot Dog Day, is being sponsored by Nathan's Hot Dogs and Main Street Cafe. For more information, visit https://www.facebook.com/chestercountyrelay.

"Doug is one of the most charitable artists that I know," said his manager, Michael Stover of MTS Management Group. "He has performed for Wounded Warriors events, Support Our Troops, St. Jude's, plus his work with his church. He definitely believes in the ideals of paying it forward and giving back to the community. I hope everyone in the area will come out to support this tremendous event."
At Relay For Life events, communities across the globe come together to honor cancer survivors, remember loved ones lost, and fight back against a disease that has already taken too much. Relay teams camp out overnight and take turns walking or running around a track or path at a local high school, park, or fairground. Relay events are up to 24 hours in length and, because cancer never sleeps, each team is asked to have at least one participant on the track at all times.
Doug Briney is a 2013 Independent Country Music Association award winner. Previously located in Anchorage, Alaska, Doug recently moved to the Nashville area. His debut album, It's All Country spent 8 months on the Roots Music Report charts, receiving worldwide airplay. His follow up, Super Country Cowboy, his first with Tate Music Group, will be released later this year. For more information, visit http://www.dougbriney.com.