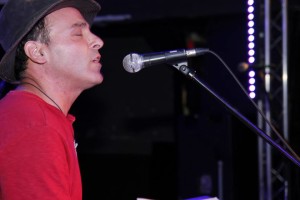 MTS Management Group is happy to announce Billy Grima has the Number One single on the CMG Global Radio Americana chart.  Billy's single, "Pleasure to Have Met You" tops the chart for July 18, 2015.  His track bests releases from Lacy Jay Siler, Hickory Wind Bluegrass Band, and Gail Carson.  "Pleasure to Have Met You" comes from Billy's album, Sugar & Cream.
"We're extremely proud of Billy and his successes," said MTS President, Michael Stover.  "Billy is such a gifted songwriter and musician, and it doesn't surprise me that his talent has translated to radio airplay and chart success. Billy is also nominated for the Josie Show Awards and the TexaSounds Awards, for which he is performing in Texas next week.  Congrats, Billy!"
Billy is also charting on the CMG Global Radio All Indie Top 100 chart at #81, with "Picture of You and Me," another cut from Sugar & Cream.
CMG Radio is owned and operated by The Cramer Multi Media Group and is a Distributor of Indie Artists Music via our CMG Global Radio Network, BSM Global Radio Network, CMG European Radio Network and the CMG Asian Radio Network.. The Daily lineup of shows are made up of independently owned and operated shows, from Presenters, DJ's and Radio Station Owners. The shows you will hear are all syndicated on various stations and radio networks.  For more information, visit http://www.cmgglobalradio.com.
Billy Grima is an award-nominated singer/ songwriter living in the Caledon Hills of Ontario, Canada. Born in Blacktown, NSW Australia, Billy moved to Canada and settled in Toronto, at age 15.   Like classic singer/songwriters, Billy Joel, Jim Croce, James Taylor and Bob Dylan, life's daily realities and everyday events are a source of Billy's inspiration.  His smooth and soulful sound has earned him comparisons to contemporaries Jason Mraz, Ed Sheeran, Jack Johnson and even Bruno Mars.  Billy has 3 albums to his credit: I'm Just Standing , A Little Piece Of Heaven and his latest, titled Sugar & Cream, produced and engineered by Pete Swann (Glass Tiger's Alan Connely, Adrian and Justin Lifeson, sons of Rush's Alex Lifeson.)  Sugar & Cream features a tasty blend of pop, rock, soul and Americana, including the first single, "Pleasure To Have Met You."  The album is currently airing on more than 100 AM/FM stations across North America, while first single, "Pleasure to Have Met You" is airing on more than 400 additional worldwide stations.  Billy is a Josie Show Awards nominee.  For more info, visit www.billygrima.com.