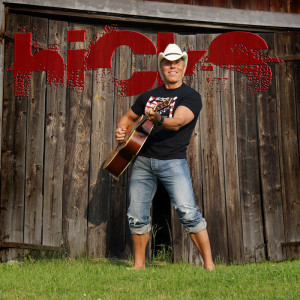 Swedish country rocker and MTS Records' artist, Hicks was recently interviewed by Jason Saulnier of Music Legends. Hicks talked about his new album, Rock N Roll Cowboy, his first US single release, "Hayride" and his plans for 2014. Here is an excerpt from their conversation:
Music Legends: How was it working with on the new US single Hayride and the album Rock N Roll Cowboy?
Hicks: I never had more fun working on an album. It's been really effortless. Everything just fell into place by itself. I hand picked all the players on the album. Guys that I knew would lift it to another dimension. And they sure did… Me and Erik Martensson (producer) just let everybody play and contribute with their creativity and it was so much fun seeing how the album grew. And some songs took another direction and what we had in mind when we wrote them, but they became so much better. And working with Erik is just a blessing. I mean that guy has such an ear for production, songwriting, mixing and playing. No wonder the line is miles long with artist that wants to work with him…
Music Legends: Working with Survivor's Jimi Jamison, W.E.T. and Little River Band must have been a great experience. Tell me about it?
Hicks: Wow… That was a dream come through for me. I grew up listening to those guys and they inspired me to start writing music. And then I'm writing songs for them. Unbelievable…
Jimi Jamison is to me one of the best rock singers in the world. Period. They way he approaches a song and really sings it, is just off the hook. When me and Erik wrote the album we wanted to write songs that would capture Jimi not just write songs. He's not 25 so we wanted to write about things that a guy that has lived a little, been around the block can relate to. Songs about life… When Jimi started singing those songs we were so blown away, we couldn't believe what we heard and felt. He took those songs and sang his heart out. I hope we get to do another album with him.
W.E.T is one of Eriks bands. And again here's another great singer Jeff Scott Soto (Journey, Talisman) What's cool to work with such amazing singers is that we can write what ever we want to. Never have to worry if they can hit the notes. They can. We won "Album Of The Year" and "Song Of The Year" Brothers In Arms at Melodicrock Awards for the their debut album and the latest album Rise Up from 2013 also won "Album of They Year" it also won "Album Of The Year" in Brazil.
That Little River Band decided to record my song "Cuts like Diamond" and name the whole album after that song is just simply UNFREAKINGBELIEVABLE…
Read more at http://musiclegends.ca/interviews/hicks-interview/.
Jason Saulnier is an Independent Radio Show Host and Interviewer for over 15 years on FM radio in Canada & online, "Good Time Metal Oldies" & "Jason Saulnier Interviews Legends" shows. He interviews on average over 100 music industry people & bands each year, with each person interviewed having some notability. His YouTube channel at http://www.youtube.com/gtmo has over one million views in total. 1,124,397 views.