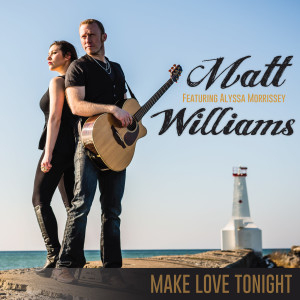 MTS Management Group would like to congratulate Matt Williams and Alyssa Morrissey on their Number One Yallwire Most Watched Video, "Make Love Tonight." The video climbed from its debut position at #50, last week. Matt and Alyssa come in ahead of Swedish country artist, Hicks, at #2 (climbing from last week's debut at #73) with "Hayride," and fellow Canadian countryman, Marshall Dane, who debuts at #3 with his latest, "Alcohol Abuse." Rounding out the Top 10 are videos from Lee Brice, Sherry Lynn, Big and Rich, Tracy Lawrence and Sean Patrick McGraw. To view the chart, please visit http://www.yallwire.com/topvideos/all-genres.html.
"Make Love Tonight" was directed by Chris Vandenburg, the same director behind Matt's band, Western Avenue's Top 10 Yallwire video for "Wherever You Are." "Make Love Tonight" (MTS Records) is currently at US country radio. www.mattwilliamsproductions.com.
"Hayride" was shot in -3 F degree weather. The single is being released on MTS Records on June 30, 2014. It is the first US single for Hicks, a British CMA Award winner for Euro Country Act of the Year. www.hickscountry.com.
"Alcohol Abuse" was produced by award-winning company, The Field. The single (Gold Lake/MTS) is currently in the Top 70 of the Music Row Country Breakout Chart, and the Top 40 on New Music Weekly's main country chart. www.marshalldane.com.
Y'allwire was launched in November 2006, and is growing quickly among its loyal base of Country, Bluegrass and Christian fans. With 1,000 music videos and continuously evolving original content, Yallwire.com is the ultimate online platform for undiscovered and new artists to get play alongside the big-label names.