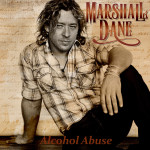 MTS Management Group would like to congratulate Marshall Dane on his #1 New Music Weekly (NMW) Magazine Internet Country chart single, "Alcohol Abuse" (Gold Lake/MTS.) The single tops the chart for weekending June 20, 2014. The track is also #1 on the NMW Indie Internet Country chart. "Alcohol Abuse" is Marshall's first US single release. It is the 4th consecutive #1 NMW single for MTS Records.
"When Marshall Dane first came to me with 'Alcohol Abuse,' I knew that we had a hit record on our hands," said Michael Stover of MTS. "It's got a stand-out sound and amazing vocal delivery, matched with the memorable rapid-fire brand name chorus. It's infectious and unique, at the same time. Great song, amazing performer! The fact that it is our 4th straight #1 NMW single is so humbling and gratifying. We're also enjoying our first Music Row Top 70 (#68) with this song, too! So, thank you, to all of the radio stations playing the record, and especially to the fans, for requesting it."
"Alcohol Abuse" is from Marshall's latest album, One of These Days, released in May 2013. The song was written by Country Hall of Fame Songwriter Kim Williams (Garth Brooks, Reba McEntire, Rascal Flatts) and Grammy Award Nominee, Billy Yates (Gary Allan, George Strait, Kenny Chesney.) In addition to Marshall Dane's smooth-as-aged-whiskey vocal delivery, the track features Jeff Fountain (bass), Corey Thompson (drums), Mike Bonnell (keys), Dan Brodbeck (Guitar), Doug Johnson (steel) and Shane Guse (fiddle.)
The video for "Alcohol Abuse" is currently #2 on the Y'allwire Most Watched Country Music Videos chart. Watch it on Youtube at https://www.youtube.com/watch?v=mE84nZ3oEIc.
Marshall Dane is a Canadian country singer/songwriter, based in Port Credit, Ontario. He is a 4-time Country Music Association of Ontario Award Nominee and a 3-time 2014 Independent Country Music Association Award Nominee. He recently performed at CMA Fest in Nashville. www.marshalldane.com.
New Music Weekly is a nationally distributed trade magazine for the radio and music industries. Following the tradition of Bill Gavin and the Gavin Report, New Music Weekly interprets data from the Spins Tracking System for music industry executives and artists across the United States. Weekly editorial features include highlights of the top singles impacting radio and "spotlights" of new music from the Top40/Pop, Country, AC/Hot, and College music genres. www.newmusicweekly.com.