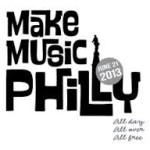 MTS Management Group is happy to announce singer/songwriter Jiggley Jones will perform at the Hard Rock Cafe in Philadelphia, as part of "Make Music Philly" Day. The free performance will start at 5:15pm on Friday, June 21, 2013, outside the Hard Rock, located at 1113-1131 Market Street. For more information, contact (215) 238-1000 or visit http://www.hardrock.com/philadelphia.

Make Music Day is a global celebration that takes place on the summer solstice each year and for the first time ever, the "city of brotherly love" will join with over 500 other cites world-wide to celebrate from 8AM -8PM. Make Music Philly will showcase some of the best talent on the planet while building city-wide unity through their amazing music scene. For more information, visit http://www.makemusicphilly.org.
Jiggley Jones is an Americana/Alt-country singer-songwriter based in Coatesville, PA, less than an hour from Philadelphia. He was among the winners of the Grafitti Radio Songwriters Contest. His EP, "No Spring Chicken" reached the Top 40 of the Roots Music Report Americana chart. He recently performed at B.B. King's in Nashville, during the EAG Entertainment CMA Fest Showcase. For more information, visit http://www.jiggleyjones.com.