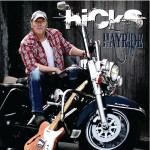 Swedish country singer/songwriter and BCMA Euro Artist of the Year, Hicks recently spoke with the Country Startpage about his love of country music and what's in store for his first US single, "Hayride," out on June 30th. Here's an excerpt from that interview:
Country Startpage: Why country music ?
Hicks: I grew up listening to Johnny Cash and Jim Reeves and a lot of rock. But there was always something special with those country songs. I didn't grew tired of them as I did with many of the rock songs. They stuck more in my heart and head. And when I write songs these days no matter what genre it is, there's always a country vibe to my songs. Country music is in my heart simple as that…
Country Startpage: If everything would be possible (waking the dead included) , which two people should sing the ultimate country duet?
Hicks: Patsy Cline and Vince Gill I just have a feeling that their voices would sound amazing together…
Read the entire interview at http://www.countrystartpage.com/interviews/hicks.php.