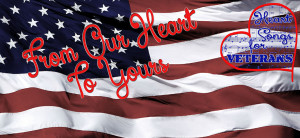 MTS Management Group is very happy to announce Award-winning country recording artist, Doug Briney is partnering with Heart Songs For Veterans, for an upcoming single release.  Doug, who is a noted veterans and military supporter, will be donating a previously unreleased track to the organization. A portion of the proceeds from sales of the single will be given to veterans and military charities across the country. Doug will also be performing at Heart Songs For Veterans concert events, which also benefit these charities.  Doug joins a roster that includes "American Idol" and "The Voice" contestant, Kayla Nettles, and Honorary Co-founder, Andy Roadarmel, who is co-writing Doug's forthcoming release.
Founder Jill Pavel says, "We are thrilled to add Doug Briney to our Heart Song for Veteran artist roster. He is already a supporter of our military and veterans and we appreciate his willingness to share his music with our supporters."
Heart Songs For Veterans is a Music initiative created to help veterans, active military personnel and wounded warriors. Singer/Songwriters donate their new song releases and a portion of the proceeds goes to a veteran or wounded warrior organization. Current releases include "God Cried" Kayla Nettles, "Mild Mannered Man" John Cotton, and "They Choose To" David Craig.  For more information, visit http://www.heartsongsforveterans.org.
Doug Briney is a 2014 Independent Country Music Association (ICoMA) Award Nominee, a 2014 Nashville Universe Award Nominee, and a 2013 ICoMA Award Winner. His releases have spent more than a year on the roots music charts and have reached the Top 15 of the itunes charts.  His current album, Super Country Cowboy features the single, "Unknown Soldier." Doug is donating his proceeds from the sales of that single to Operation Troop Aid.  For more information, visit http://www.dougbriney.com.