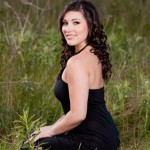 Canadian country chanteuse, Alyssa Morrissey recently spoke with popular online music site, Jamsphere, about her influences, her current single with Matt Williams, "Make Love Tonight" and more. Here's an excerpt from that interview:
Jamsphere: Who were your first musical influences that you can remember?
Alyssa Morrissey: My first few influences I would have to say were Shania Twain, Amanda Marshall and Avril Lavigne.
Jamsphere: Which artists are you currently listening to, and is there any one of these you'd like to collaborate with?
Alyssa Morrissey: I'm listening to a variety of different artists right now. From Florida Georgia Line and Blake Shelton to Katy Parry and The Lumineers! And honestly collaborating with any of those would be amazing.
Read the entire interview with Alyssa at http://www.jamsphere.com.