The Award-winning Whiskey and Cigarettes Country Radio  Show is set to announce the winners of the First Annual Whiskey Awards.  DJ Nik Bernitz Pizzigoni, host of the New Music Award-winning, internationally syndicated radio program, will announce the winners during Sunday, June 7th's live "Whiskey Awards" broadcast, which will kick off country music's biggest fan week.   During the awards special, DJ Nik will also welcome Country Gospel Hall of Fame artist, Lulu Roman.  Ms. Roman is busy promoting her live concert appearances, including  June 7th's "Country For A Cause" in Nashville.
The Official First Annual Whiskey Award Nominees are:
Entertainer of the Year
Miranda Lambert, Blake Shelton, Luke Bryan, Keith Urban, Garth Brooks, Kenny Chesney
Best Male
Brantley Gilbert, Doug Briney, Luke Bryan, Brian Grilli, Brad Paisley, Hicks
Best Female
Miranda Lambert, Carrie Underwood, Josey Milner, Deana Carter, Kacey Musgraves, Morgan Riley
Best Duo or Group
Florida Georgia Line, Branch and Dean, Maddie And Tae, Lady Antebellum, The Stickers, Natalie Stovall and The Drive
Best Single
"Shotgun Rider" – Tim McGraw, "Cowgirls" – Josey Milner, "Something In The Water" – Carrie Underwood, "Mama's Kitchen" – Hicks, "Rowdy Shoutin' Cowboys" – Morgan Riley, "Crazy" – Brian Grilli
Best Album
Moonshine In The Trunk – Brad Paisley, Super Country Cowboy – Doug Briney, Write You a Song – Jon Pardi, The Big Revival – Kenny Chesney, Painkiller – Little Big Town, In Style Again – Jim Ed Brown
Best Video
"Automatic" – Miranda Lambert, "Unknown Soldier" – Doug Briney, "Song About a Girl" – Eric Paslay, "Girl in a Country Song" – Maddie and Tae, "Make Love Tonight" – Matt Williams/Alyssa Morrissey, "Someday" – Codie Prevost
Breakthrough Artist
Sam Hunt, Hicks, Maddie And Tae, Cole Swindell, Branch and Dean, Morgan Riley
Lifetime Achievement Award
Bill Anderson, Lee Greenwood, Charlie Daniels, Oak Ridge Boys, Kenny Rogers, Jim Ed Brown
Best Indie Artist
Doug Briney, Wendy Lynn Snider, Lindsey Highlander, Hicks, Matt Farris, Angel Mary and the Werewolves
The interview with Lulu Roman will air this coming Sunday, June 7th, 2015 between 11am ET-3pm ET. The live show airs on Military Brotherhood Radio at http://www.militarybrotherhoodradio.com. "Whiskey And Cigarettes" is also re-broadcast on 50 syndicating stations, worldwide, multiple times throughout the week.  The interview will also appear on the June edition of the "Whiskey and Conversations" talk show, broadcasting in July on iheartradio and other outlets.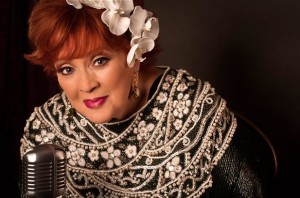 Lulu Roman is probably best known as a regular on the comedy-music television series, Hee Haw.  In 1999 Lulu Roman was inducted into the Country Gospel Music Hall of Fame with fellow artists Andy Griffith, Barbara Mandrell, David L. Cook, Gary S. Paxton, Loretta Lynn, Jimmy Snow and Jody Miller.  In 2002 Lulu's 16th album, a collection of hits and favorites called "Lulu, Inspired" was nominated for a Dove award.  Roman continues to perform music and stand-up comedy and also enjoys working with Compassion International, a child-development organization.
"Country For A Cause" is a June 7th concert featuring Lulu Roman, Linda Davis, Charlie McCoy, Rex Allen, Jr., Buddy Jewell, Doug Briney, T. Graham Brown, John Berry and others, to benefit cancer charities, like Pearl Point. It will be held at Nashville Palace in Nashville, Tennessee.
Whiskey And Cigarettes Radio Show is a weekly show, originating in Milan, Italy, hosted by the "Romeo of the Rodeo" Nik Pizzigoni.  Nik is a Nashville Universe Awards Winner, International Music and Entertainment Association Award Winner, a New Music Awards Winner, AMG Heritage Awards nominee, Artists In Music Awards nominee, and an Independent Country Music Association nominee. The show features a unique blend of classic, current and indie country, trivia, contests, artist spotlights and interviews and Nik's European charm. Previous guests have included Charlie Daniels, Steve Wariner, John Rich, Oak Ridge Boys, Bill Anderson, David Ball, Bryan White, Doug Stone, Lee Greenwood, Collin Raye and many others.  http://www.whiskeyandcigarettesshow.com