Whiskey and Cigarettes Country Radio Show is happy to announce the airing of their exclusive interview with Becky Brown, the widow of Country Music Hall of Famer, Grand Ole Opry star and former W&C guest, Jim Ed Brown.  Ms. Brown joined award-winning host, Nik Bernitz Pizzigoni, to discuss her life with Jim Ed Brown, as detailed in her upcoming memoir, "Going Our Way" (out on August 1st.)
The interview with Becky Brown will air this coming Sunday, May 13th, 2018, between 11am ET-3pm ET. The live show airs on Military Brotherhood Radio at http://www.militarybrotherhoodradio.com. Whiskey And Cigarettes is also re-broadcast on 27 internet and am/fm syndicate stations, and their affiliates around the world.  The show is also available on demand, on Soundcloud and at www.whiskeyandcigarettesshow.com.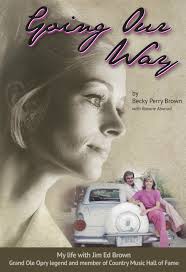 About Becky Brown: "GOING OUR WAY" offers an intimate look at one woman of the 1960s "stay at home" generation who chose to -genteelly – buck the trend. Throughout their lives together, Becky retained her independence. She modeled; worked as a professional makeup artist; painted; danced, taught dance, and formed a renowned dance studio and troupe. While a supportive wife to Jim Ed and loving mother of two well-rounded children, she lived life her way, never allowing herself to be relegated to the shadows of her husband's stardom. As her longtime friend Atwood recalls, "Becky didn't need to share Jim Ed's spotlight because she has her own light – an inner light that shines outward." That light is evident in every one of the book's 228 pages and in each of the 175 photographs found within. Throughout, readers can feel Becky's deep faith, courage and her determination to stand by her man. An engaging read, GOING OUR WAY proves that sometimes fact can be more compelling than fiction.
"Whiskey And Cigarettes Radio Show" is a weekly show, originating in Milan, Italy, hosted by the "Romeo of the Rodeo" Nik Pizzigoni.  Nik is a Nashville Universe Awards Winner, International Music and Entertainment Association Award Winner, a New Music Awards Winner, AMG Heritage Awards nominee,  and an Independent Country Music Association nominee. The show features a unique blend of classic, current and indie country, trivia, contests, artist spotlights and interviews and Nik's European charm. Previous guests have included Charley Pride, Hank Williams, Jr., Charlie Daniels, Steve Wariner, John Rich, Oak Ridge Boys, Lorrie Morgan, Bill Anderson, Luke Bryan, Bryan White, Travis Tritt, Lee Greenwood, Collin Raye and many others.  www.whiskeyandcigarettesshow.com.