Whiskey and Cigarettes Country Radio Show is happy to announce the airing of their exclusive one-on-one interview with Top 5 ARIA charting Australian country music star, Kirsty Lee Akers. Ms. Akers joined award-winning host, DJ Nik Bernitz Pizzigoni to talk about her career highlights, including her latest album release, Burn Baby Burn.

The exclusive interview with Ms. Akers will air this coming Sunday, May 22nd, 2016 between 11am ET-3pm ET. The live show airs on Military Brotherhood Radio at http://www.militarybrotherhoodradio.com. Whiskey And Cigarettes is also re-broadcast on 50 syndicating stations and their affiliates, worldwide, multiple times throughout the week.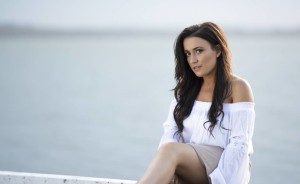 In 2012, with Kirsty Lee Akers' Australian career on track, the USA came calling louder than ever before. When Kirsty connected up with Emmy-winning producer and multi Billboard number one hit-single writer Trey Bruce, it became apparent that her musical journey would now stretch beyond Australian shores on a more permanent basis. With her album "Naked" receiving acclaim in Australia, Akers made the move to Nashville. This breakout move resulted in the start of touring activities and the creation of relationships that have ultimately helped her on her path, but as her hard-working nature dictates, there is always more to do. To keep the balance and family connections that she holds dear she now splits her time between these two great countries.  For more information, visit http://www.kirstyleeakers.com/.
Whiskey And Cigarettes Radio Show is a weekly show, originating in Milan, Italy, hosted by the "Romeo of the Rodeo" Nik Pizzigoni.  Nik is a Nashville Universe Awards Winner, International Music and Entertainment Association Award Winner, a New Music Awards Winner, AMG Heritage Awards nominee, Artists In Music Awards nominee, and an Independent Country Music Association nominee. The show features a unique blend of classic, current and indie country, trivia, contests, artist spotlights and interviews and Nik's European charm. Previous guests have included Hank Williams, Jr., Charlie Daniels, Lorrie Morgan, Steve Wariner, John Rich, Oak Ridge Boys, Bill Anderson, David Ball, Bryan White, Doug Stone, Lee Greenwood, Collin Raye and many others.  www.whiskeyandcigarettesshow.com.