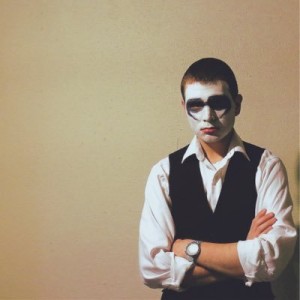 We had a conversation with Detroit, MI singer, songwriter, and musician, Ryan Pennatune, to chat about his latest EP release, Recess.  Ryan talked about his growing up in the Motor City, the recording process, and his penchant for take out food:
MTS: You grew up in Detroit, MI, and wrote your first song at age 7.  How do you think growing up in Motor City influenced you as an artist and songwriter?
RYAN PENNATUNE: I'd love to give a profound answer here but if I am being completely honest, I don't feel like where I grew up influenced me one way or the other. Detroit does have a rich musical history and working class mentality that could have influenced me in some way but I've always kind of lived inside of my own head. I feel like wherever I grew up, I would be in the same spot I'm in now.
MTS: Do you remember that first song that you wrote, and if so, what was it called, and what were some of the lyrics?
RP: I do! The song was called "Hot Rod" and basically repeated the line "driving around in my hot rod" over and over. Pretty deep stuff.
MTS: You new EP, Recess was just released.  How was the writing and recording process?  Where did you record it?
RP: When my last band dissolved earlier this year I wasn't exactly sure what I wanted my next move to be. I had always kicked around the idea of doing something on my own but the timing never seemed right. This time it just seemed to be the right time to finally launch a solo career.
I actually wound up recording the EP myself in a studio I set up in my basement. I wanted to get going on things right away and record everything exactly the way I wanted to record them so I chose to do everything myself.
One of the songs on the EP, "Anyone Seen Kyle?", was a song I'd had floating around for about a year that I wanted to finally get recorded. The other three were new songs that I wrote pretty quickly going into the project. There was actually another song I wrote called "The Great Escape" that I almost included on the EP but decided not to at the last minute. I just felt it needed some more work. Maybe it'll come out one day.
 The whole thing was pretty organic. I was so eager to get going and record something and the songs came to me pretty quickly.
MTS: Do you prefer live performances or recording, and why?
RP: They're two totally different things and I like each for different reasons. I'm a big fan of song craft. I love the feeling of starting off with that initial germ of an idea and building it until it blossoms into a completed song. Playing live is great because you can take those completed ideas and actually perform them in front of people and to feel the energy that comes from a good crowd is something that can't be beat. Right now, though, my focus is on recording because I have so many ideas I want to get out. Having said that, I look forward to the next time I play live. I'm still kind of testing the waters and seeing where I want to go with certain things.
MTS: What is more important to you: industry awards, record sales, or critical praise? Why?
RP: I would honestly have to say neither. The most important thing to me is to make music I can stand behind and if even just one person likes what I've done, I consider that a success. Above all else, the ability to "connect" with people is what's most important to me. Anything else that comes along with it is just a bonus.
MTS: You play bass, drums and guitar, and you are self-taught, correct?  Which instrument do you play best?  Which do you like best?  Who is your favorite bass player, drummer and guitarist of all time?
RP: I am indeed self-taught on all three. I identify most as a guitar player and it's the one I am probably technically "best" at. I love playing all three, though. I look at all of them as individual tools to create a song.
 Having to choose a favorite for all three is tough. For drums I usually say Dave Grohl. I don't know how anyone can watch old footage of him playing with Nirvana and not want to become a drummer. So much power and energy but so controlled. A lot of people don't realize he played most of the drums on the first couple of Foo Fighters albums too along with all of the different things he has done on the side. Bass has gotta be Mike Dirnt or Paul McCartney, both for their melodicism. I always have a hard time picking a favorite when it comes to guitarists because I love so many. Keith Richards is actually the guy that made me want to pick up a guitar in the first place. My dad was a big Stones fan and when I was a kid I'd see pictures of the guy playing guitar and he just looked so cool. I learned a lot rhythmically from his playing. Ace Frehley was also a pretty big influence on me. I loved Kiss growing up and always loved Ace's lead playing in particular. Prince was always one of my favorite guitarists for the wide range of genres he could fuse and his unique phrasing. Johnny Ramone was a big influence on my playing. The list goes on and on.
MTS: What is one goal that you would like to achieve in your music career, in the next year?
RP: The main thing I want to do is keep putting out new material that people find to be worthwhile. I don't want to only put new stuff out every couple of years like you see a lot of bands and artists do. I want to consistently put out new stuff. By the end of the year I want to have a full length album out.
MTS: What is the highlight of your music career, so far?
RP: I think the highlight so far would have to be the release of Recess. It's satisfying to see something I had been wanting to do for such a long time finally come to fruition. When I was a little kid learning to play I had always wanted to put something out with me doing everything. At that time it didn't seem possible. To actually be able to do it now is pretty cool.
MTS: When you are not making music, what do you like to do with your spare time, and if I were coming over for dinner, what would you make?
RP: One thing people may not know about me is that I am a big fan of theme parks, particularly Disney parks. It's kind of my "nerd out" thing. I love the history and everything that went in to creating them. I've literally got books and books on this stuff. I'm also a fan of pro Wrestling. I grew up watching in the 90's and I find myself going back and watching a lot of the stuff from that era but I also try to keep up with the current stuff when I am able to.
 As far as dinner? I'm not cooking you a thing. We're getting carry out. Pizza, Lebanese or Thai – your choice. 
MTS: Thanks, Ryan!  We'll go with the pizza…with mushrooms..
Check out Ryan Pennatune at:
ryanpennatune.com
twitter.com/ryanpennatune
instagram.com/ryanpennatune
ryanpennatune.bandcamp.com