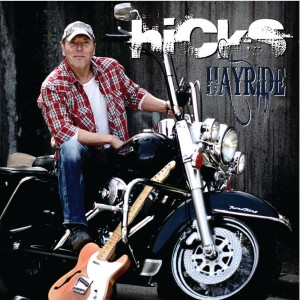 MTS Management Group and MTS Records are happy to announce the signing of international award-winning singer/songwriter and Swedish country music artist, Hicks (Miqael Persson.) MTS Records will release Hicks' first US radio single, "Hayride" on June 30th. "Hayride" will be delivered to radio via digital delivery services Play MPE and Airplay Access. It will also be made available for download on itunes, Amazon, Rhapsody, and all major online music retailers, worldwide, on the same date.
"Hayride" was co-written by Hicks and Lasse Andersson. The song and video have already received numerous award nominations, including Song of the Year and Video of the Year at the 2014 Nashville Universe Awards and Song of the Year at the 2014 Independent Country Music Association Awards. The video currently boasts more than 75,000 Youtube views at https://www.youtube.com/watch?v=jX-XX4-WIoc.
"We are so excited to welcome Hicks to the MTS Records family," said Michael Stover, MTS owner. "His brand of rockin', good time country, with a little bit of a harder edge, is just what we were looking for for a late summer radio release. He's written songs for some of my favorite rock vocalists, like Jimi Jamison and Jeff Scott Soto (W.E.T.) among others, so, he's pretty accomplished, in his own right. Buckle up, everyone! We're going to take US radio listeners on a very exciting 'Hayride' this summer and fall!"
Hicks (Miqael Persson) is an accomplished songwriter from the south of Sweden, with multiple Gold and Platinum records to his credit. His rock-edged songs have been recorded by artists like Jimi Jamison (Survivor), Giant (Dann Huff), Bobby Kimball (Toto), Little River Band, W.E.T. (Featuring Jeff Scott Soto), Grammy nominated Toby Hitchcock and Grammy winner, Barbados. He has also written with Nashville heavy-hitters like Anthony Smith, Dallas Rogers, Dennis Morgan and Sharon Vaughn. He was named the 2013 British CMA Award Winner for Best European Country Act. For more information, visit http://www.hickscountry.com.