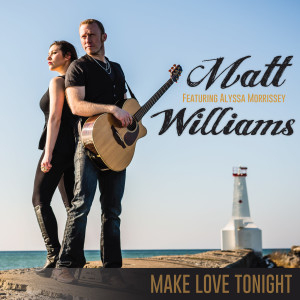 MTS Management Group and Matt Williams are happy to announce the world premiere of Matt's new music video for his debut solo single, "Make Love Tonight." The track is a duet with fellow Canadian country artist, Alyssa Morrissey. The video made its debut earlier today, Monday, May 26th at 2pm ET on the Matt Williams Youtube Channel. Watch the video at https://www.youtube.com/watch?v=wgzdsrjNTtQ.
The video for "Make Love Tonight" was filmed under the direction of Chris Vandenberg. Additional production members include Assistant Producer, Jennifer Gillespie; Brian Keith, Mitchell Stewart and Luke Ansley. The video tells the story of a couple (played by Matt and Alyssa) gone their separate ways, who reunite years later, on stage at a live concert event.
"Make Love Tonight" was written by Matt Williams, Alyssa Morrisey, Doug Folkins, and Adam Newcomb. It was recorded at Newcomb Studios in Cobourg, Ontario, with Newcomb producing and mixing, and playing bass and piano. Additional musicians include Newcomb and Williams on guitar, Matt Newcomb on drums and Andy Schick on pedal steel. The single was released on May 12, 2014, on MTS Records.
Matt Williams is from Cobourg, Ontario. He plays guitar and sings, as one-third of the country-pop trio, Western Avenue. WA is a Nashville Universe Award winner, twice-nominated International Music and Entertainment Award nominee, Independent Country Music Association Award nominee, and a Country Music Association of Ontario Award nominee. Their self-titled debut album, released in 2013, included the Top 75 Music Row chart and #1 New Music Weekly chart single, "Wherever You Are." For more information, visit http://www.mattwilliamsproductions.com.
Alyssa Morrissey hails from Peterborough, Ontario. Discovered by songwriter, Cyril Rawson (Reba McEntire, Gretchen Wilson, Lorrie Morgan) Alyssa's first CD, Let's Not Call It Love received international airplay and charted in her home country. Her 2nd release, Way To Go was released in 2013. Alyssa is a 2014 Wire Awards winner. For more information, visit http://www.alyssamorrissey.com.
Matt and Alyssa will both be signing and performing at CMA Fest, beginning on June 5th, at the MTS Management Group Showcase Event, being held at 6pm at the Millennium Hotel, Maxwell's on Rosa Parks Blvd in Nashville. For more information, visit http://www.mtsmanagementgroup.com.