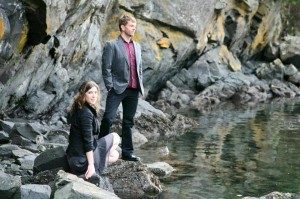 Seattle folk-pop duo, March To May will guest on "Country Roundup," this Wednesday, May 13th at 8pm ET, and YOU'RE all invited to call in and talk with them! The show will broadcast live, and you can listen in RIGHT HERE. During the show, you can call (347) 215-7579 and ask your questions of this amazing pair of singer/songwriters.  Darren and Beth are promoting their critically-acclaimed debut EP, The Water's Edge.  Don't miss it!
After "Country Round Up," join March To May on the "Amy Beth Arkawy Show".  Join Darren, Beth and Amy Beth, as they discuss the duo's new video for  "Embers," their upcoming tour dates, and much more!  Hear the broadcast LIVE at http://www.blogtalkradio.com. You can call in and speak with the pair LIVE during the show at (347) 857-4505.
Everyone has a story. What's yours? Join radio host, author and creativity coach Amy Beth Arkawy for compelling conversations with noted & emerging voices in the arts & pop culture. Listeners are invited to call in & add to the mix of cultural commentary & inspirational advice.. For more information, visit http://amybetharkawy.com/.