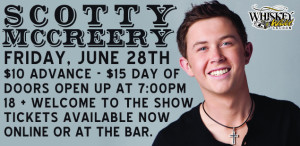 MTS Management Group and Kansas City-based country music artist, Josey Milner are happy to announce Josey will be opening for country music star, Scotty McCreery. The concert will take place on Friday, June 28, 2013 at Whiskey Wild Saloon, located at 2508 Paris Road in Columbia, Missouri. Doors open at 7pm. Tickets are $10 in advance, $15 day of show, and they are available online at http://www.whiskeywildcomo.com.
"We are thrilled to bring Josey to Whiskey Wild Saloon for a two night stint, including the opener for Scotty," said Michael Stover of MTS Management Group. "Scotty and Josey both appeal to a wide demographic; younger audience members like their youthful energy and performances, while the older demo enjoy their traditional influences. This show made perfect sense for Josey to open. Josey will also be performing a full set the following night, Saturday, the 29th. So, we hope that Scotty's fans will love her enough to come back the next night for a $5 show."

Scotty McCreery's debut studio album, "Clear as Day" topped the Billboard Top 200 and Top Country charts, earning him a spot in the Guinness World Records Book for being the youngest male in history to score a No.1 album on the all-genre chart with a debut release. The album was certified platinum within just three months of its release. The album's first two singles, "I Love You This Big" and "The Trouble With Girls," were also certified Gold. For more information, visit http://www.scottymccreery.com.
Josey Milner is a 2013 Independent Country Music Association award nominee, chosen as one of the Top 10 Hot New Artists by PDS Entertainment. Her debut US single, "Not Pretty Enough" reached the Top 25 New Music Weekly, receiving international airplay. She is a spokesperson for national anti-bullying charity, Angels and Doves. For more information, visit http://www.joseymilner.com.