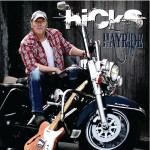 Indie music powerhouse site, The Indie Authority recently interviewed Swedish country music sensation, Hicks, about his new album, Rock N' Roll Cowboy and upcoming debut US single, "Hayride:"
Indie Authority: WHAT ARE YOU LISTENING TO LATELY?
Hicks: Ronnie Dunns latest album Peace Love And Country Music. I'm a huge Brooks and Dunn fan.  Eric Church The Outsiders been in my headphones a lot. Gutsy album…
Indie Authority: WHAT'S YOUR FAVORITE ALBUM BY ANOTHER ARTIST?
Hicks: Well it's either Brooks and Dunn Hillbilly Deluxe or Emmylou Harris Wrecking Ball.  Love what Daniel Lanois did with that album.
Read the entire interview at http://www.theindieauthority.com/ladyspitfire-interviews-hicks/.