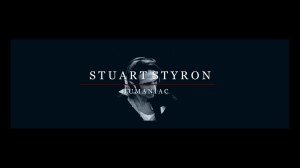 We were recently contacted by Stuart Styron's people, that some meetings like ours must and has been cancelled by Styron himself.. We thought, rather than review the album, we would have a more in-depth conversation with the incredible artist, to follow up on the interview we recently conducted. Later we got the chance to talk on telephone about his actual work situation. Here is what Styron had to tell us, about this, and his upcoming releases:
"I am releasing material from the past 10 years. When I come to the final decision to release it, I want it to sound fresh. We have already released 2 more digital albums this year, and 2 more albums are on the way. The cds will be available very soon. If someone is thinking, that there is a difference between a major label and us…Yes, of course. My compositions are done by a hard-working fanatic We can`t wait..I don't want to do things the regular way. The most important thing is to put out the music on cds. Later after our marathon of releasing, that will be the time for album reviews and talking about every single. My system works, because of the timeless compositions. Exciting!
"The collection will speak to many people all over the world. Because every album has its own spectacular theme. Talking about every single album will always be a sensation. My compositions are unusual and "needs" some information, before people can understand the ghost in the notes.'
""I am very excited, since forming "A Leaving Reality Production" official. In time I`m working on an album that is called, "Dictatorial Frequency". Fanatic Fantastica – I can't remember every composition and production from my archive I did, all in all, so those materials are very interesting for me. I can`t explain the feelings, it is like "Is it me? My work of music..?" or "I must left the reality to create such melodies and atmospheres". And another point is, that the quality of the sound is mostly, better than I expected. Yes, there are very exciting albums coming up. I`m not speaking about "commercial slave" productions. I`m talking about universalic unexpected, bolf art manifesticas. Do not misunderstand my words. Being an artist is, when the artist tries and achieves options and looks for what is really inside. Experimental or whatever. That`s the most interesting thing about being an artist. You have to "create" and to "manifest". I have no time for being just a "musician," as most are doing. And people, listen up! Beware of commercial, boring "nice" musicians and there stupid music. It can damage your intelligence and bones. Open up your mind, heart and soul, when someone tries to entertain you. Do not consume everything from media. Search for kerosenic frequencies – your bones and karma inside of you, will be very thankfull. Try contacting your planet, or use your precious multidimensional mind for your own fantasies.'
"Thank you for attention. Do not misunderstand my thoughts and words. If you think, I am very "special" – Yes, of course!'
"100% copyrights on my art works and everything else, is what I want. Force!"
Thank you, Stuart! We are looking forward to hearing all of your amazing music… for more information on Stuart Styron, please visit http://www.stuartstyron.com/ or https://www.facebook.com/StuartStyron111.
http://stuartstyron.blogspot.de /
http://www.stuartstyron-store.com/