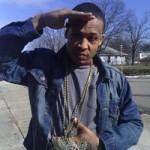 From our friends at MuzicNotez.com, comes this interview with Chris Mays:
MuzicNotez: What motivated you to start creating music? What age did you begin?
Chris Mays: I was born with music in my soul.. My uncle Jr.Bell may God rest his soul, uncle Wayne.. so it was in my bloodstream from the jump..10yes old is when I was really into it.. I just wanted to express myself.. I was like around 10 when my one of homies Uncles was rapping Rick Chill…I heard him and seen the cassette tape and was like I want to do this.. He was one of my motivations.. Much luv to Rick Chill.. Northside posse…
MuzicNotez: Who were your musical influences, idols, or bands growing up that have helped mold you into the musician you are today? Or helped mold the music that you create?
Chris Mays: Michael Jackson, tupac,LL, guns n roses, Metallica, Bobby brown, RPMs, tribe called quest, NEAr, Snoop, Too short, DOG, Biggie, Minn Deep, Bad, Guru, Run dmc, Jayz, Capone Noreaga, Earth Wind Fire, Jim Morrison, Marvin Gaye, Wu Tang, & Master P…
Read the entire interview at www.muzicnotez.com.