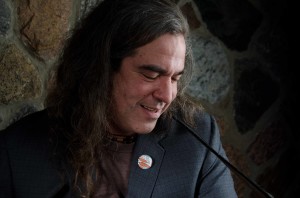 This Friday, May 30th, the musical madman, Ed Roman returns to his busy press schedule, with two appearances promoting his latest album release, the critically acclaimed Letters From High Latitudes.  At 12pm ET, Ed will be the guest on the Amy Beth Arkawy Show. Join Ed and Amy as they discuss Ed's album and upcoming tour dates.  Hear the broadcast LIVE at http://www.blogtalkradio.com. You can call in and speak with Ed LIVE (if you dare!) during the show at (347) 857-4505.
Then, later that afternoon, Ed will be taping an appearance on Rogers TV's "Night Time With Michael A. Charbon." Ed will be interviewed about his burgeoning career.  The show airs on Rogers TV Mississauga, Cable 10. Viewers can tune in locally, on Friday at 11pm, Saturday at 3am and 10pm, and the following Friday at 12:01am. Check local listings and the Rogers TV website at www.rogerstv.com.
Everyone has a story. What's yours? Join radio host, author and creativity coach Amy Beth Arkawy for compelling conversations with noted & emerging voices in the arts & pop culture. Listeners are invited to call in & add to the mix of cultural commentary &la inspirational advice.
"Night Time with Michael A. Charbon" is the Peel Region's only dedicated late night talk show. Join Michael and the Night Time Band, featuring Music Director Arlene Paculan, each week for great entertainment, interesting guests, comedians, and our exclusive "Michael's Peel Adventures: Breaking Down Barriers." Michael A. Charbon is a Gemini Award winning independent broadcast television Producer and Executive Producer for over 27 successful years, with credits ranging from Live Sports coverage to multi-episodic series creation for major Canadian and international television networks.