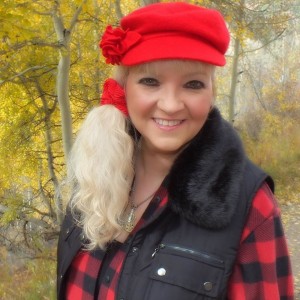 In the Indie artist world, there's no question that country/folk star Luanne Hunt has made her mark. Throughout her illustrious career, the award-winning singer/songwriter has built an impressive list of accomplishments, including scoring numerous No. 1 hits on Independent country music charts around the world. She is best known for her chart-topping single, "Christmas Without You," which was recently named by Sweden's largest daily newspaper, Dagens Nyheter, one of the top 25 Christmas songs of all-time. "Christmas Without You" also landed on two "Best of 2015 Female Country Holiday Songs" lists in the major online U.S. publications, Autostraddle and Truckers News. Most recently, her she scored a No. 1 single on European charts with her post-modern country tune, "Texas Tears."
Luanne took time out of her busy schedule to answer a few questions…
MTS:  You've won many awards and have had several chart-topping songs in your career. What is your greatest accomplishment in the music industry, to date?
 Luanne Hunt: Back in 2008, I released a holiday CD titled "How Christmas Feels to Me."  The project included a song called "Christmas Without You," which was originally commissioned by the legendary Patsy Cline.  In the summer of 1960, Patsy called on my friend Lawton Jiles and his songwriting partner Buster Beam and asked them to write her a holiday tune (the pair also wrote several of Patsy's lesser-known songs).  They went to work immediately and came up with "Christmas Without You."
Lawton told me that Patsy went crazy for it but her label execs didn't feel the same.  They requested that Lawton and Buster re-write the lyrics to something non-seasonal so Patsy could record and release the tune that summer.  It became "How Can I Face Tomorrow?" but failed to make a splash on the Cashbox charts.
One can imagine how excited I was when Lawton asked me to record "Christmas Without You" the way it was originally written.  I've been promoting it since 2008 and every year, it has received more and more attention.
Last Christmas, Sweden's largest daily newspaper, Dagens Nyheter, named it among their Top 25 Christmas Songs of All-Time.  That was a huge deal for me because I was the only Indie artist on the list that included music greats such as Merle Haggard, Mariah Carey and Otis Redding, to name few.  I really felt like I had "made it."
MTS: You've worked with a lot of big-time studio musicians on your albums. Tell us about them, and how did you come to hook up with them?
 LH: I met my producer Eric Uglum in 2004 shortly after moving to the High Desert of Southern California. Eric had a studio down the street from my house, so I started doing lots of small recording projects.  As I got to know him, I found out he was good friends with Alison Krauss and had worked with her on stage and in the studio. He also had produced records for bluegrass music stars such as Ralph Stanley, Cherryholmes and Nickel Creek.
I grew quite a bit as an artist during those early years with Eric.  In 2007, he suggested I take my music to a whole other level with a nationally released CD.  As we started the recording process for "Breaking Through," he introduced me to my drummer Roger Gillespie, who had backed the Coasters, Kenny Loggins and many other superstars.  Roger hooked me up with my phenomenal keyboard player Hal Ratliff, who toured for several years with the Righteous Brothers and The Grass Roots.
Eric's stepsons, Austin Ward (bass) and Christian Ward (fiddle), played on "Breaking Through" as well.  They were just little kids at the time but spectacular, nonetheless.  They are now two of the most sought-after session players in Nashville.
Last year, I brought in a new guitarist on my team named Joe Eiffert.  Joe and his band Southern Spirit have opened for countless country stars and also have made quite a name for themselves on the Southern California nightclub scene.
 MTS: Why country music, and what do you think of the current trends at country radio?
 LH: This is funny but when I got married at the Opryland Hotel in 1983, I was not a fan of country music at all.  I remember being extremely reluctant to go to a show at the Grand Ole Opry with my new husband.
By the time the 1990s rolled around, country music had started to grow on me.  There were so many awesome songs on the radio back then and the artists were awesome.
I honed my chops singing Karaoke on many of those 90s tunes and just continued with that style when it came to writing and recording my own original music.
Today's mainstream country sound has changed so much since those days, hasn't it?  Personally, I don't care for most of it, mainly because I think it all sounds the same.  I haven't been able to wrap my brain around why it is that artists insist on copying one another.  As an artist myself, the last thing I want to do is try to be exactly like someone else.  What's the point?
I have a quote on my website that says, "I'd much rather fail at being uniquely me than succeed at being someone I'm not."  I wish there was more of that kind of thinking among singers these days.  The music would be a whole lot better and more interesting, for sure.
MTS: If there was one artist (living or deceased) that you could record a duet with, who would that be, and why?
LH: I don't even have to hesitate in saying it would be legendary country/folk singer/songwriter, John Denver. The first time I heard John on the radio when I was kid, his voice and songs just stopped me in my tracks.  Now that I know a thing or two about what makes a great artist and a great song, I realize he was in a league far beyond most.
Not only were John's pitch and tone impeccable, but he had the ability to write songs that took you to emotional places you never dreamed of.  To this day, I can put on one of his records and be instantly transported to a world of complete serenity and bliss.
To record a duet with John Denver would not only be an incredible honor, but also a way to be up close and personal to his very special brand of magic.
MTS: Industry awards, critical acclaim or record sales–which is most important to you and why?
LH: I love this question because there are so many misconceptions out there about what it means to be successful in today's music industry.  One big one is that there is lots of money to be made off of downloads.
That couldn't be further from the truth, as it is way too easy to get music online without paying for it.  I found a free site just the other day where you could actually turn a Youtube music video into an mp3.  When I saw that, I realized the days of selling songs online are about over.
But that's neither here nor there to me because I've never made music to make money.  Yes, I've sold a lot of CDs at my live shows but I basically turned around and put the profits right back into recording and promotion.
A singer/songwriter friend once told me that music picked him, not the other way around.  That really resonated with me.  I have to do this. Period.
Beyond that, the idea of continuing to improve at what I do keeps me in the game.  I love being on stage but there's nothing more fulfilling that knowing I can continue rising to new heights with my artistry through the songwriting, recording and performing process.  Being recognized with awards and such for all the efforts I've put into making great music is just icing on the cake.
MTS: Tell us about "Texas Tears" and your latest album. What was the recording process like?
 LH: My husband Steve wrote "Texas Tears" one summer about 20 years ago.  He was churning out tunes like crazy at the time and each one seemed better than the last.
I remember just loving "Texas Tears" and wound up taking our guitar/vocal demo to a friend of mine who ran a publishing company in Nashville.  She loved it, too, and wanted to sign it.  Her business partner, however, argued with her about doing so because they had no financial stake in the writing of the tune.  That was very disappointing to say the least.
We ultimately shelved the song and except for producing a male guitar/vocal demo of it in the late 1990s, it just sat in our catalog.
When I was getting ready to start recording my 13th studio CD a couple of months ago, I told my husband it was high time we dusted off "Texas Tears" and gave it a whirl.
 My keyboard player Hal came up with the whole honkytonk blues feel and it couldn't have been a better fit.  Our past demos were pretty folky, so we were ecstatic over the new arrangement, as well as the opportunity to do something a little different.
Once the rest of my studio players heard Hal's groove, they all became caught up in the energy.  For a song where each instrument was tracked separately on different days, it sounds like everyone's playing at the same time.  I am very proud to have such talented and passionate musicians on my team.
Since releasing "Texas Tears," it's been getting quite a bit of airplay around the world.  It also has been in the No. 1 spot for several weeks on a prominent Indie country music chart in the UK.
 MTS: What is the craziest thing that's ever happened to you on tour, and where did it happen?
 LH: Well, this is crazy and creepy.  I went on a speaking/singing tour for a national woman's organization back in 2009 and was invited to stay with a host family in Mechanicsville, Virginia.  It turned out to be a very wealthy doctor and his wife, who lived in the most magnificent mansion.  Appearances can be deceiving, let me tell you.
When my husband and I arrived at their home, the wife informed us that her sister had come to stay with them and she was a bit "unstable." Turns out, they had just picked her up from the mental hospital that day and she had been acting all kinds of crazy.
As we sat in the living room that night talking to the doctor and his wife, the crazy lady stared a hole through me and Steve and didn't say a word.  It was chilling.
When I found out her bedroom was right next to ours, I was very tempted to leave right then and there.  We stayed against my better judgement but I did not get one wink of sleep.  I even had my husband barricade our bedroom door with a piece of furniture.
The next morning, we got the heck out of there fast and never looked back!
MTS: What do you like to do, when you're not making music, any hobbies? And, if I came over for dinner, what would you serve?
 LH: One of my most favorite pastimes is cooking.  I started making our family's meals when I was around eight years old and have always enjoyed carrying on certain menu traditions, as well as trying new recipes.
If you came over for dinner, I would probably serve Chicken Marsala with Angel Hair Pasta in Olive Oil and Spices, Roasted Brussel Sprouts and Tomato/Basil Bruschetta.  Dessert might be something like Boston Cream Pie or Chocolate Mousse.
Now I'm hungry.
MTS: Thank you for some amazing answers, Luanne!