Whiskey and Cigarettes Country Radio Show is happy to announce the airing of their exclusive interview with Steve Dilling of chart-topping bluegrass band, Sideline. Mr. Dilling joined award-winning host, Nik Bernitz Pizzigoni, to discuss the band's latest album, "Front and Center" (out on April 27th) and their hit single, "Thunder Dan."
The interview with Sideline will air this coming Sunday, April 29th, 2018, between 11am ET-3pm ET. The live show airs on Military Brotherhood Radio at http://www.militarybrotherhoodradio.com. Whiskey And Cigarettes is also re-broadcast on 27 internet and am/fm syndicate stations, and their affiliates around the world.  The show is also available on demand, on Soundcloud and at www.whiskeyandcigarettesshow.com.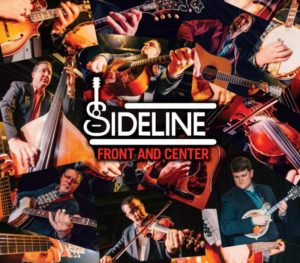 About Sideline:  Sideline is taking the charts by storm with their latest single release,"Thunder Dan." The track has proven enormously popular with radio and listeners alike, debuting this week at#1on the Bluegrass Today Monthly Chart, sitting at#4 on theBluegrass Today Weekly Chart,and holding the#5 spot on theHotDisc International Chart. The song is also one of Sirius XM'sBluegrass Junction Most-Played Tracks, and acompanion video is currently airing onThe Country Network. The tune's mid-tempo groove and compelling lyric conjure up dark thoughts and a dim future for a backwoods loner but prove irresistible for Bluegrass lovers."Thunder Dan"is the first release from SIDELINE's April 27 album, FRONT AND CENTER (Mountain Home Music), which is available for pre-order now.  http://www.sidelinebg.com/
"Whiskey And Cigarettes Radio Show" is a weekly show, originating in Milan, Italy, hosted by the "Romeo of the Rodeo" Nik Pizzigoni.  Nik is a Nashville Universe Awards Winner, International Music and Entertainment Association Award Winner, a New Music Awards Winner, AMG Heritage Awards nominee,  and an Independent Country Music Association nominee. The show features a unique blend of classic, current and indie country, trivia, contests, artist spotlights and interviews and Nik's European charm. Previous guests have included Charley Pride, Hank Williams, Jr., Charlie Daniels, Steve Wariner, John Rich, Oak Ridge Boys, Lorrie Morgan, Bill Anderson, Luke Bryan, Bryan White, Travis Tritt, Lee Greenwood, Collin Raye and many others.  www.whiskeyandcigarettesshow.com.