MTS Management Group and Whiskey and Cigarettes Country Radio  Show are proud to announce the First Annual Whiskey Awards.  The New Music Award-winning, internationally syndicated radio program is now accepting first-round nominations from country music fans and industry members, in the following categories:  Entertainer Of The Year, Best Male, Best Female, Best Duo Or Group, Best SIngle, Best Album, Best Video, Breakthrough Artist, Best Tour, Best W&C Guest and Lifetime Achievement Award.  The eligibility period for being nominated is March 2014-March 2015.  Nominations will be accepted until April 30, 2015.  Final nominees will be announced on a special nominees broadcast of "Whiskey and Cigarettes," airing live on May 3, 2015, and final round voting will be open to the public until May 31, 2015.  Winners of the Whiskey Awards will be announced live on June 7, 2015, to kick off country music's biggest week.  For more information, and to submit your first round nominations, visit http://www.whiskeyandcigarettesshow.com/#!wc-awards/cx50.
Whiskey and Cigarettes Country Radio Show is aso happy to announce the airing of their exclusive interview with Billboard Magazine "Artist To Watch 2014," Tyler Barham.  Tyler joined multi-award-winning host, DJ Nik Bernitz Pizzigoni to talk about his latest single release, "Just Two Kids.
The interview with Tyler Barham will air this coming Sunday, April 19th, 2015 between 11am ET-3pm ET. The live show airs on Military Brotherhood Radio at http://www.militarybrotherhoodradio.com. Whiskey And Cigarettes is also re-broadcast on 50 syndicating stations, worldwide, multiple times throughout the week.  The interview will also appear on the April edition of the "Whiskey and Conversations" talk show, broadcasting in May on iheartradio and other outlets.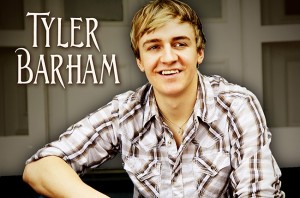 Tyler Barham is a Montana-born and raised singer/songwriter.  In 2008, he was a finalist on tv show, Next GAC Star.  He was also featured on E!s Opening Act, while winning nationally syndicated radio host, Radio Lia's Your Big Break contest.  Tyler's most recent original release, Don't Cage This Heart, debuted at #56 on the Billboard Country Album Chart and #19 on the Billboard Heatseekers Album Chart.  He was named one of the Country Music Association's (CMA) "Who New to Watch in 2013" and was recently named one of Billboard's "10 Country Artists to Watch in 2014."  For more information, visit www.tylerbarham.com.
Whiskey And Cigarettes Radio Show is a weekly show, originating in Milan, Italy, hosted by the "Romeo of the Rodeo" Nik Pizzigoni.  Nik is a Nashville Universe Awards Winner, International Music and Entertainment Association Award Winner, a New Music Awards Winner, AMG Heritage Awards nominee, Artists In Music Awards nominee, and an Independent Country Music Association nominee. The show features a unique blend of classic, current and indie country, trivia, contests, artist spotlights and interviews and Nik's European charm. Previous guests have included Charlie Daniels, Steve Wariner, John Rich, Oak Ridge Boys, Bill Anderson, David Ball, Bryan White, Doug Stone, Lee Greenwood, Collin Raye and many others.  http://www.whiskeyandcigarettesshow.com.